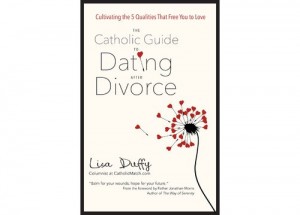 Lisa Duffy, an author and speaker for the CatholicMatch institute, overcame a painful divorce and annulment, remarried in the Church, and has spent the past twenty years ministering to those who have been wounded by divorce.
In The Catholic Guide to Dating after Divorce (Ave Maria Press, 2015), Duffy provides authentic Church teaching on divorce, annulment (including the benefits of going through the process), remarriage and receiving the Eucharist. Sharing her first-hand experience, she understands the pain of going through a divorce. "Rebuilding after divorce is hard work and it requires patience and persistence . . . It is easy to lose sight of the fact that we are lovable, valuable, and God still has great plans for us."
Soon after her divorce, co-workers and other well-meaning individuals wanted to fix her up on dates, but Duffy cautions that one must "take the time to properly heal from your own divorce before entering into a serious dating relationship."
How does one do that? Duffy offers five attraction factors that help an individual become a better version of themselves. These "five factors will help you become the best, most attractive version of yourself, and pave the way for you to experience greater satisfaction in your relationship, and to improve your ability to give and receive love." These five factors include being available, being affectionate, being a communicator, being faithful, and being magnanimous.
Duffy has extremely high standards for individuals to meet before being ready to date after a divorce (or to date in the first place). If everyone met them, no doubt the world would have many more happy marriages. However, we live in a world of imperfection. Perhaps it would be more practical to aim for the high standard, but be willing to accept an 80% success rate in both oneself and potential partners.
Duffy offers concrete advice and areas for individuals to work on to heal from divorce and prepare for dating. The Catholic Guide to Dating After Divorce is a book many divorced Catholics can benefit from. It also might make for good reading for parish priests and pastoral ministers to help in their role as counselors to the faithful.