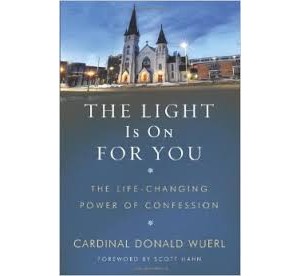 Confession, also known as The Sacrament of Reconciliation, can be a hard sell, even among Catholics who actively practice their faith. In the Introduction to The Light is On for You: The Life-Changing Power of Confession (The Word Among Us Press), Cardinal Donald Wuerl acknowledges that only "slightly more than 60 percent of practicing Catholics go to Confession." Clearly, this is a sacrament with a marketing problem. Yet, this sacrament is one of God's greatest gifts.
In 2007 in the Archdiocese of Washington, Cardinal Wuerl helped establish an advertising campaign, "The Light is On for You," which invited people to return to Confession. All the churches in the diocese would have a priest available for confession on Wednesday evenings from 6:30 – 8:00 pm. Therefore, everyone in the diocese would know that they could go to any Catholic church during that time and be able to confess their sins. The program was very successful.
Cardinal Wuerl explores the Sacrament of Reconciliation and the questions frequently asked about it. Why should we go to confession? By what authority can the priest forgive sins? Wuerl shares stories of God's mercy as well as the importance of the grace of repentance and conversion. He also offers instruction on preparing for the sacrament and how it should be celebrated. He discusses the Seal of the Confessional which mandates that nothing in the confessional ever be revealed by the priest, even if it means that he dies for it. He also encourages those who do attend confession regularly to invite others to accompany them.
Perhaps the most helpful chapter for those who have been away from the sacrament for a while is the chapter "Obstacles, Real and Imagined." This chapter includes the various reasons people give for not going to the Sacrament of Reconciliation and why they are not correct. The book also includes a thorough examination of conscience and a copy of the Rite of Reconciliation.
One of the best features of the book is the "From the Pews" segments in which everyday, ordinary Catholics share their experiences with going to confession. These stories are both enlightening and inspiring.
This book is perfect for anyone who wants to learn more about the history and value of the Sacrament of Reconciliation. Even priests should read this book in order to learn about what makes for a positive experience in the confessional. It should go without saying, but those who have a positive, welcoming experience are more likely to return.
The Sacrament of Reconciliation is an underutilized gift from God. Cardinal Wuerl is working to change that. The Light is On for You is an excellent opportunity to spread the good news about confession.