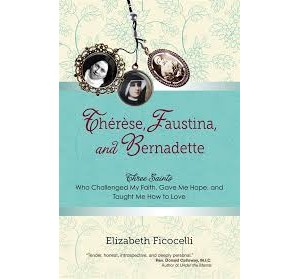 Elizabeth Ficocelli, raised as a non-practicing Lutheran,  did not become Catholic until she was preparing to marry her Catholic boyfriend, but even as a child, she felt that God was leading her to a special mission. To fulfill that mission, Ficocelli states that "God had in store for me amazingly heavenly helpmates who would be there to challenge my faith, give me hope, and teach me to love, which is ultimately what this book is all about."
In Therese, Faustina, and Bernadette: Three Saints who Challenged My Faith, Gave Me Hope, and Taught Me How to Love (Ave Maria Press, 2014), Ficocelli shares the stories of these three saints as well as the way that they have shaped and influenced her own life. Saints Therese, Faustina, and Bernadette have much in common. "Each had a passion for saving sinners and rescuing souls, a fear of losing God's friendship, a dedication to a Gospel-based path to holiness, and a total abandonment to the will of God . . . They suffered spiritual dark nights of the souls . . . [and]each went through a physical passion of sorts during a slow and agonizing death." For Ficocelli, and for us, they serve as spiritual guides and friends to help us through the challenges of being a modern woman.
Each one of the saints also has a particular virtue that she can teach us about. St. Therese and her little way is a master of Love; St. Faustina with her message of divine mercy is a vision of Hope; and St. Bernadette, the visionary of Fatima, is a great example of Faith. We can learn a great deal about how to live a holy faith from these three women's example.
For those not familiar with these saints, Therese, Faustina, and Bernadette provides a wonderful introduction to these heavenly helpers. For those already acquainted, it provides an opportunity to reflect more deeply on their lives, their example, and the lessons that they have to teach us. The appendix includes reflection questions for use as an individual or as part of a book group.