Catholics are supposed to be the champions of human rights. We are 25 percent of the U.S. population, yet Barack Obama was twice elected president and he wages numerous kinds of war both here and abroad. As Congress weighs Obama's plan to bomb the Syrian people, Catholics and all Americans need to understand what's at stake and urge their members of Congress to vote against it.
Stephen Coughlin, a senior fellow at the Center for Security Policy, is Catholic and an expert who educates members of Congress and the Defense Department on Islamist terrorism.
"There's so much noise with the events going on in Syria, we hear so many contradicting narratives, it's hard to get a sense of who really did what," Coughlin said. "The other part is that if the U.S. gets involved, we would be effectively supporting the Muslim Brotherhood and their al-Qaeda allies in Syria. I think a decision has to be made – has to be weighed – against that reality. It's important to understand that there seems to be some people with ties to the Muslim Brotherhood who have the ability to influence our national security planning cycle."
Coughlin was referring to my previous story with him on the Muslim Brotherhood's own memo explaining its current "grand Jihad" to take over America by "eliminating and destroying the Western civilization from within and 'sabotaging' its miserable house by their [own]hands." Al-Qaeda gruesomely murdered thousands of Americans on September 11, 2001, the Muslim Brotherhood has infiltrated the U.S. government and it's leading many of the revolutionary factions in Syria.
Thus, Coughlin explained, "We need to understand that wherever the Muslim Brotherhood established itself, you see persecution of Christians."
Despite ample evidence of the grand jihad, many of our top officials who profess themselves Catholics are pushing for war on Syria. They include Vice President Joe Biden, Secretary of State John Kerry, Defense Secretary Chuck Hagel, House Speaker John Boehner and Minority Leader Nancy Pelosi. But do they have the courage to witness brutal truth?
On June 23, in Gassanieh, Syria, an al-Qaeda sub-group, Jabhat al-Nusra or the al-Nusra Front, murdered Father François Murad. There are conflicting reports qbout how and where Father Murad was murdered, but not who murdered him.
At first, various outlets featured a video by Jabhat al-Nusra, who videotaped themselves beheading two men with a butcher's knife and the first victim resembles Father Murad. Nothing could have braced me for the violent evil in this video. It's incomprehensible. I cried and prayed, but it haunts me. After both victims are killed, the jihadist mob cheers and proudly takes trophy photos of the victims' severed heads. The clip stops short as other men are held captive on their knees, hands tied behind their backs, apparently awaiting the same execution.
Father Pierbattista Pizzaballa, head of the Franciscan Custody of the Holy Land, told CNN that Father Murad was shot to death. Citing official Church sources, the Vatican's Agenzia Fides reported that Father Murad left his monastery after it was bombed and went to a Rosary Sisters convent to help protect the nuns and minister to a small remnant of Christians. According to the Franciscan Custody, they also cared for Sunni and Alawi Muslims.
On July 2, Agenzia Fides quoted Farid, a Syrian Sunni Muslim activist, who decries jihadists. Farid said Jabhat al-Nusra is attempting to establish the most restrictive caliphate in history and "It is possible for beheadings to occur because for this ideology the infidel must be beheaded." He said this means even non-compliant Muslims will be tortured and killed.
Also on July 2, two Greek-Catholic priests told the Agenzia Fides about the tragedy of Mariam. She was a 15-year-old Christian from Qusair who was kidnapped, married to 15 jihadists – one after another – raped by each of them and then murdered. Like Father Murad, her captors were Jabhat al-Nusra, who had conquered her hometown and occupied it.
According to Agenzia Fides, this was the result of a widespread fatwa in Syria issued by Yasir al-Ajlawni, a Salafi Muslim sheikh from Jordan and a resident of Damascus. He declared it lawful for rebels against President Bashar al-Assad to rape "any non-Sunni Syrian woman."
The terrorists had ransacked and used St. Elias Church in Qusair as their residence and headquarters there, but the priests re-consecrated it to God and are collecting testimonies from survivors.
In brief, the revolutionaries that Obama seeks to empower include several other jihadist groups.
Therefore, Robert Reilly and Dr. William Kilpatrick, both Catholic specialists on Islam, warn against his agenda.
Reilly wrote "The Closing of the Muslim Mind: How Intellectual Suicide Created the Modern Islamist" and is a former Defense Department official. 
"If President Obama is going to commit an act of war on behalf of one side in a Syrian civil war, he ought to be asked to explain why it is in the national security interests of the U.S. to take that side," Reilly advised. "I have not heard a compelling reason yet. No amount of talk about chemical weapons can change the fact that this action engages us in a civil war on one side. What are the goals of the side we are taking and, if that side succeeds, how does its success serve our interests?
"If we did not have a reason to intervene when the killing in Syria reached 100,000 casualties, why do we all of a sudden have a reason now that 1,000 more have been killed, by whomever, with a different kind of weapon? In other words, if they had died from regular artillery shells, would we be contemplating an act of war right now? The obvious answer is: No.
"What's more," Reilly added, "Obama openly declares that his contemplated military action is not designed to change the Syrian regime. What is it for then? To make sure Syrian forces only kill in approved ways? This is not serious. It is better not to do anything than to do this."
Kilpatrick, author of "Christianity, Islam and Atheism: The Struggle for The Soul of The West," said, "There are no good choices in Syria and no convincing argument that Syrians will be any better off should Assad's military capacity be degraded. It needs to be kept in mind that the rebel forces are composed mainly of Muslim Brotherhood and al-Qaeda type groups that have proven themselves every bit as ruthless as Assad. If our intervention changes the balance of power in Syria, it will not mean the end of suffering in Syria. We should remember that our support of the Muslim Brotherhood in Egypt did not improve the condition of the Egyptians. Moreover, the success of the Muslim Brotherhood there unleashed a violent campaign of persecution against Christians that continues to this day," Kilpatrick stressed. "The Islamist project of exterminating Syria's Christian population will only be emboldened."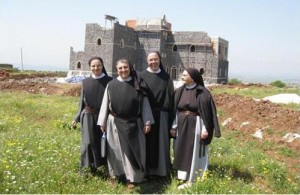 The boldest critics against Obama are a small group of Trappist nuns in Azeir, Syria. Like many Catholic missionaries, these nuns minister to Christians, Muslims and everyone in their path. On August 29 they wrote an open letter, which was reprinted from Avvenire byThe Catholic World Report.
"We look at the people around us, our day workers who are all here as if suspended, stunned: 'They've decided to attack us.' Today we went to Tartous … we felt the anger, the helplessness, the inability to formulate a sense to all this…
"Will they make us breathe the toxic gases of the depots they hit, tomorrow, so as to punish us for the gases we have already breathed in?"
The nuns said their townspeople anxiously watch TV for news that Obama has ordered attacks.
"Will the Nobel Peace Prize winner drop his sentence of war onto us? Despite all justice, all common sense, all mercy, all humility, all wisdom?
"The Pope has spoken up, patriarchs and bishops have spoken up, numberless witnesses have spoken up, analysts and people of experience have spoken up, even the opponents of the regime have spoken up… Yet here we all are, waiting for just one word from the great Obama? … It isn't he who is 'the great one,' it is the Evil One who these days is really acting up. …
"To those who truly have a heart for Syria (for mankind, for truth…) we ask for prayer … abounding, heartfelt, courageous prayer."
Indeed, Patriarch Gregory III of Antioch, who oversees the Melkite Greek-Catholic Church in Syria and Lebanon, protested President Obama and his administration. On August 28, he told Asia News: "This attack being planned by the United States is a criminal act, which will only reap more victims, in addition to the tens of thousands of these two years of war. This will destroy the Arab world's trust in the West.
"What or who have led Syria to this thin red line, this point of no return? Who created this hell in which our people have been living for months? Every day, Islamic extremists from all over the world are pouring into Syria with the sole intent to kill and not one country has done anything to stop them; even the U.S. has decided to send in more weapons."
Pope Francis, grieved by the war, sufferings and deaths in Syria, has called on all Catholics to pray and fast for peace.
On September 7, he held a massive prayer vigil in Saint Peter's Square, where he exclaimed: "This evening, I ask the Lord that we Christians, and our brothers and sisters of other religions, and every man and woman of good will, cry out forcefully: violence and war are never the way to peace!"
The Holy Father also sent a letter to members of the G20 Summit, care of Russian President Vladimir Putin. Members include President Obama and Pope Francis wrote: "Violence never begets peace, the necessary condition for development. … The leaders of the G20 cannot remain indifferent to the dramatic situation of the beloved Syrian people which has lasted far too long, and even risks bringing greater suffering to a region bitterly tested by strife and needful of peace. To the leaders present, to each and every one, I make a heartfelt appeal for them to help find ways to overcome the conflicting positions and to lay aside the futile pursuit of a military solution."
Pope Francis couldn't be more clear. Catholics and all Americans should forcefully cry out against Obama's plan to bomb Syria.
To find and contact your representative in the U.S. House, visit House.gov/representatives/find
To find and contact your U.S. senators, see Senate.gov/general/contact_information/senators