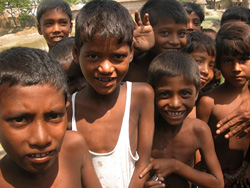 The foreign assistance appropriations bill proposed by a House subcommittee "makes morally unacceptable, even deadly cuts to poverty-focused humanitarian and development assistance," said Bishop Howard J. Hubbard of Albany, chairman of the United States Conference of Catholic Bishops' (USCCB) Committee on International Justice and Peace, and Ken Hackett, President of Catholic Relief Services, in a July 29 letter to the House Appropriations Committee.
"These cuts will undermine integral human development, poverty reduction initiatives, and stability in the world's poorest countries and communities," Hubbard and Hackett said in their letter.  "They could also weaken our long-term security, since poverty and hopelessness can provide a fertile ground for the growth of instability, conflict and terrorism." 
While acknowledging the difficult challenges Congress faces in addressing the national debt and controlling future deficits, Hubbard and Hackett added that "our nation must be fiscally responsible in morally responsible ways."
They singled out as especially egregious cuts to funding for agricultural assistance for subsistence farmers, adaptation to climate change for vulnerable communities, medicines for people living with HIV/AIDS and vaccines for preventable diseases, assistance to orphans and vulnerable children, disaster assistance in places like Haiti, peacekeeping to protect innocent civilians in troubled areas such as Sudan and the Congo, and support to migrants and refugees fleeing conflict or persecution in nations such as Iraq.
Hubbard and Hackett urged Congress instead to put everything on the table, including defense, revenue, agricultural subsidies, and fair and just entitlement reform.  If the foreign assistance budget must be cut, they urged that critical poverty-focused development and humanitarian accounts and other programs that assist the poor around the world be spared.
"The budget is a moral document that should give priority to those who are poor and vulnerable at home and abroad.  This bill reduces foreign operations appropriations by 2%, but poverty-focused international assistance by over 13% in addition to last year's cut of over 8%.  This is not a balanced, moral approach to budget reductions," the letter said.
Hubbard and Hackett also expressed support for language in the bill supporting restoration of the Mexico City policy, which bars federal funding to groups that perform or promote abortion, and for and preserving the Helms Amendment (which prohibits U.S. funding for abortion) and the Kemp-Kasten provision (which prohibits support for organizations involved in programs of coercive abortion or involuntary sterilization).