A confusing article — to say the least — has been published by Catholic News Service: a puff piece on Labor Secretary Hilda Solis. From an August 30 interview:
The office of Secretary of Labor Hilda L. Solis includes images of Our Lady of Guadalupe, a glass crucifix and a sculpture of Mary and Jesus. Her Catholic faith, she said, "is a part of my life. My faith is what motivates me."
The lessons her faith teaches about hope, about helping others, about seeking higher things is something woven into the fabric of her daily life, she said. "I do it in a quiet way," she said. (Full piece at the Boston Pilot)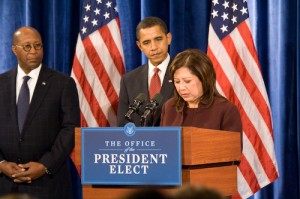 A quick search on Solis, a U.S. representative for the state of California for eight years, reveals someone who is not only not particularly concerned with the rights of unborn children, but who is a hardcore pro-abort politician. Sporting a 100% pro-abortion rating by NARAL Pro-choice America, Solis has opposed justice for unborn crime victims, supported abortion funding abroad, and even opposed the 2003 federal ban on partial-birth abortion.
Catholic World News notes that the piece is set for distribution in diocesan newspapers across the U.S.
CNS is, according to its website, an "editorially independent and a financially self-sustaining division of the U.S. Conference of Catholic Bishops." Neither CNS nor the USCCB answered inquiries about the article.
Will we see a retraction?
To contact CNS: cns@catholicnews.com