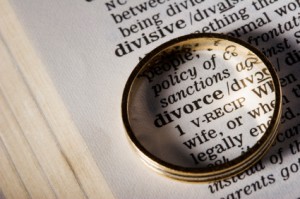 "Life is Difficult."
With those three opening words of profound truth, M. Scott Peck began a self-help revolution in his classic, The Road Less Traveled. It is really a provocative opening line for a book, a statement of the incredibly obvious, and yet a revelation.
As one of the central institutions of civilization marriage, too, is difficult. It is life in microcosm, and yet it is the paradigm for civilization itself. Therefore, it should not come as a great surprise to note the parallel realities of a civilization in decline in proportion to the failure rate of that civilization's marriages.
For decades now, the divorce rate in the United States has hovered at fifty percent.
Life is difficult.
Having known far too many couples who have divorced, having walked the road with them before, during, and after, Peck's words come as an understatement. In truth life can be brutal, demoralizing, and even dehumanizing. Outside of war and famine, nowhere do these experiences come into such sharp relief as in the experience of a failed marriage. At its completion, people are left broken, often ruined financially, devastated psychologically, and often relieved that the ordeal is finally over.
Being somewhat jaded by these realities, it takes quite a bit to penetrate the shell of cynicism that comes with being a New Yorker. That happened this week when I learned of the increasing popularity of divorce parties that often come with anti-wedding cakes showing either a dead bride or groom, a bride or groom dragging the other out to the trash, or a bride or groom shoving their spouse off the cake. Google "Divorce cakes" to see the macabre celebration of love's tragic death.
Fox News had an article on the trend. From the article:
Duff Goldman, chef and owner of Charm City Cakes in Baltimore and Charm City Cakes West in Los Angeles, said he has been creating divorce cakes for a decade, with one or so orders a month nowadays.

"We're thrilled to put a positive spin on what can be a difficult and stressful time for people," said Duff, whose custom cakes were featured on the Food Network reality show "Ace of Cakes" from 2006 to 2011.

O'Malley's first big divorce client popped up two years ago. She's the one who hosted the $25,000 bash at a fancy venue, complete with a cocktail reception, sit-down dinner, toasts and an eight-piece band. She wore white, though not her wedding gown.

"We set up a chapel-looking area and her father walked down the aisle by himself to take her back, instead of give her away," said O'Malley, who has handled several divorce parties since.

The bridesmaid who caught the woman's bouquet eight years prior threw one back to her, he said. Wedding gifts were photographed, placed in silver frames and given to gifters in attendance.

"This is something you don't have to regret, like the wedding," O'Malley said. "It's something without any shame."
Shame is not the issue here, nor should it be. Divorce, and the death of love are brutal. Shame is anticlimactic in context. Rather, the party seems to take the death of something far greater than the individuals and turns its burial into a cause for celebration. So what is being celebrated? To answer that, one needs to delve into the realm of the cognitive and affective on the wedding day itself. There are the love songs that are played, songs that speak of longing, and waiting, and fulfillment. Boyce Avenue's cover of Christina Perri's A Thousand Years captures this about as well as any.
Heart beats fast
Colors and promises
How to be brave?
How can I love when I'm afraid to fall?
But watching you stand alone,
All of my doubt suddenly goes away somehow.
One step closer
[Chorus:]
I have died every day waiting for you
Darling, don't be afraid I have loved you
For a thousand years
I'll love you for a thousand more
Time stands still
Beauty in all she is
I will be brave
I will not let anything take away
What's standing in front of me
Every breath
Every hour has come to this
One step closer
[Chorus:]
I have died every day waiting for you
Darling, don't be afraid I have loved you
For a thousand years
I'll love you for a thousand more
And all along I believed I would find you
Time has brought your heart to me
I have loved you for a thousand years
I'll love you for a thousand more
One step closer
One step closer
[Chorus:]
I have died every day waiting for you
Darling don't be afraid I have loved you
For a thousand years
I'll love you for a thousand more
And all along I believed I would find you
Time has brought your heart to me
I have loved you for a thousand years
I'll love you for a thousand more
Quite beautiful, both the lyrics and melody. Moreso, quite a powerful declaration of love, of devotion, of permanence.
It's against this affective backdrop that vows are made, that promises and expectations are declared before family, friends, and the church assembled. I can think of no more affirming moment in my life, affirmation of all that I am, than when Regina pledged her love and fidelity to me until the day one of us dies. She was (and remains) a beautiful, brilliant, and holy woman who could have had any man she wanted, and yet she chose me and put it all on the line before God and man. The emotional impact of that reality can not be understated, because it sets the table for either great good, or great harm.
Apart from sexual infidelity, which is the only kind envisioned when the word, "infidelity," is mentioned, there are a thousand other infidelities that creep into a marriage along the way. The vows made on the wedding day are not just for sexual fidelity. Sex is never mentioned explicitly. Our vows were,
"I, ______, take you, ______, to be my wife/husband. I promise to be true to you in good times and in bad, in sickness and in health. I will love you and honor you all the days of my life."
Of course sex is a part of that being, "true to you." But the reality is that there is so much more in daily life that is a part of being true, of loving and honoring the other. It is primarily in the daily acts of being true that marriages prosper, or wither. Establishing common goals, respecting differences, being slow to anger and quick to forgive have much to do with being true to the other.
The vows point to learning sacrificial love, which grows out of the seed of romantic love, and takes a lifetime to perfect as it is learned in layers. As Dostoyevsky reminds us in The Brothers Karamazov:
"Brothers, love is a teacher, but a hard one to obtain: learning to love is hard and we pay dearly for it. It takes hard work and a long apprenticeship, for it is not just for a moment that we must learn to love, but forever."
There is a raw and powerful beauty in that kind of love, and a correspondingly raw and powerful bitterness when it doesn't take root.
Before we began homeschooling the children, Regina would find herself talking with the other mothers in the school yard at morning drop-off. The women would take turns bashing and belittling their husbands, and when they came to Regina in the circle, she would have nothing to contribute, not because I don't give her heartburn with regularity, but because she loves and respects me in spite of the heartburn. The thought of trashing me was abhorrent to her, and she quickly found herself on the outs with that crowd, many of whom are now divorced.
Knowing many of them, one could see the creeping progression of the illness in their marriages. The tipping point comes when disappointments lead to unforgiveness and loss of respect. It's seldom sudden, almost always imperceptible, and spiritually toxic. When the ink is finally dry on the divorce, both parties are often psychologically and spiritually exhausted.
After such a journey, no party can bring closure, the wound is too deep. The promise of love has given way to the other feeling better off without their spouse.
It is anti-love, which may be necessary in many cases. But anti-love should never beget celebrations. It should remind us of what Peck did almost forty years ago, and prompt us to address that reality constructively:
Life is difficult.