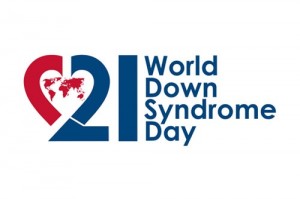 A cheerful crowd of young people with Down syndrome and their proud families filled a UN conference room on Wednesday to celebrate World Down Syndrome Day. Brazil and Poland hosted the event showcasing the achievements of differently-abled people who are allowed to live up to their potential.
About 7 million people worldwide have Down syndrome, the most common and recognized learning disability. This year marks the sixth World Down Syndrome Day, and the first one celebrated at the UN.
Its theme of "Building Our Future" set the stage for advocates, including self-advocates — people with Down syndrome — to highlight their achievements, showing what they can accomplish when they are treated with dignity, when they are included, not stigmatized, and can participate in society. As one speaker noted, people only want to be friends after they get to know the people with Down syndrome. "That's why it's important to be everywhere."
Diane Stolfo, a 30-year old self-advocate, said, "My parents used to worry about my future. I'm making my future now. Nothing has held me back from making my dreams come true." She lives independently in an apartment complex with 12 others and her boyfriend, quickly adding, "In separate apartments, of course!" They shop at local stores to support the business community, and have had the mayor over to dinner. Diane works four part-time jobs and "views this as a blessing. My dad has a different point of view when he prepares my tax returns. Thanks, Dad!"
Jason Kingsley explained how people with Down syndrome are the same, yet different. "We have the same dreams and goals as others. But we're different because we're individuals, not all the same. People used to think we couldn't amount to anything. But we can accomplish a lot. We need opportunities to learn and grow."
Schools gave him "a chance to learn." And though "tests are both sad and miserable," Jason graduated with a full diploma. He plays the piano, is taking film-making class, and lives with two roommates. He organized a petition drive for sidewalks in their neighborhood, got neighbors to sign, and took it to their town board. "Unfortunately, we still don't have a sidewalk," he lamented.
David Egan works at a major corporation, serves on committees, helps the Special Olympics, and meets with congressmen on legislation. "It's all about inclusion," he says, being "one of us, not one among us." As communities become aware of the capabilities and contributions of people with Down syndrome, they are accepted. "It takes a team," he wisely noted. "All helped me overcome obstacles."
Inclusion starts at home, David said as he showed pictures of him as a child shutting a dishwasher and vacuuming.  "Work is part of life. I helped with family chores. I was not excused because of my disability." Now he "earns a paycheck and is treated like other employees" at a company that "cares about my personal and professional development." His work does more than bring in a paycheck. It provides community and helps change the way people think about people with disabilities.
A teenage girl passed out Canadian memorabilia before the program began. As the program finished, her father told me why he came. A member of the Canadian mission to the UN, he stayed for the several-hours long event. "My daughter has Down syndrome," he explained. "For me, it's personal." And that was a common, unspoken thread throughout the day. Virtually everyone involved without Down syndrome had a family member with the disability. Nearly all were their parents.
Wednesday's celebration focused on the inspiring people with Down syndrome. But the silent partner is the mom who fights for her child to get an education, the dad who does their taxes and brings them to community events. Parents and families are the matchless, irreplaceable, secret ingredient to these special children's success. As people with Down syndrome integrate more in society, hopefully others will come to value their lives and honor the magnificent role of their parents and families.