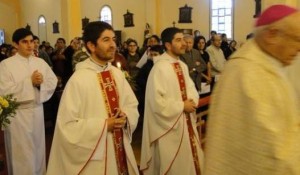 Fathers Felipe and Paulo Lizama, two twins saved from abortion when it was legal in Chile, are now both Catholic priests.
The siblings say their mother's determination to protect them in her womb fostered their vocations.
"My mother was told to abort because the baby she was carrying had two heads, three legs, and four arms, but she refused to do so," says Fr. Paulo. "She chose life even though she was supposedly at risk."
Even though "therapeutic" abortion was legal in Chile in 1984 and medics had told Rosa Silva that her life was at risk, she firmly opposed the procedure. Instead, she said she accepted whatever "God commands."
"I have a special place in my heart for the thought of how our mother was willing to give up her life for me – for us," says Fr. Paulo
The twins were born on September 10, 1984. Felipe was born first, and the doctors thought of doing a procedure to remove the placenta, as it wouldn't come out by itself. But Rosa told them to wait as she felt another child was on the way.
Paulo was born 17 minutes later.
"They could have seriously injured me, but my mother knew I was there. This means a lot to me," he said in an interview to ACI Prensa.
When they were 14 years old, the twins' parents divorced.
"Our parents' separation was hard on us. Before we were crazy about soccer. Sunday was about playing soccer and we didn't attend Mass. After that we didn't play anymore."
"Since our town was small, the only support there was, was the Church," he said, "so we ended up there because of the events in our lives."
When they turned 18, they decided to attend seminary.
"I decided not to talk about it so I wouldn't influence my brother," Fr. Felipe remembers. "But when the time came to decide what we were going to do with our lives, we both decided to enter."
After 10 years of studies, they were ordained priests in April 2012 in the Valparaíso Cathedral, and were assigned different parishes.
"How can I not defend the God of life?" asks Fr. Paulo. "This event strengthened my vocation and gave it a specific vitality, and therefore, I was able to give myself existentially to what I believe."
"God's calling is mysterious, it's hidden and it develops throughout your own personal story. It is as mysterious and as personal as each individual," he adds.
Abortion in Chile is illegal without exception since 1989, and the country boasts the lowest maternal mortality rate in all of Latin America.