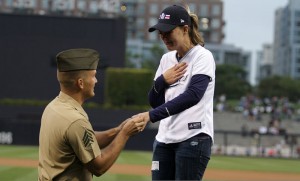 Report reveals the order of milestones, and how couples handle them, makes or breaks marriages
Milestone moments make memories for married couples, even the ones made together before the big wedding day. You always remember who first introduced the two of you, where and when you first kissed, when you proposed, and what you first purchased together and why.
According to "Before 'I Do'", a report by Galena K. Rhoades and Scott M. Stanley recently released by the National Marriage Project at the University of Virginia, the order in which couples have those early milestones – "relationship sequence" – and how they handle those moments together may influence the future of their marriage.
Between 2007 and 2008, the study followed more than 1,000 unmarried Americans between ages 18 and 34 who were in a relationship. As 418 of them got married, Rhoades and Stanley focused on their relationship history and past romantic experiences, also asking them about the quality of their marriage. What they found is that when it comes to "major relationship transitions" such as getting engaged and married, moving in together, having sex and children for the first time, couples who "slide" through such milestones without prior planning fare far worse than those who "make intentional decisions about moving through them" (4-5).
The report provides practical guidance for young people who want to avoid divorce and reach a happy "till death do you part" marriage. The order of major milestones and how couples handle them together can make a difference.
Yet relationship sequence has changed dramatically over the years and we are beginning to see what those changes may mean for the future. The childhood rhyme, "First comes love, then comes marriage, then comes the baby carriage," no longer applies in too many relationships. So we need to ask what can be done do to help those who are suffering from what we might call milestone mismanagement.
In a way, the study underscores traditional wisdom, and also supports the teaching and practice of the Church in this area. The Church speaks to couples with a pastoral approach rooted in love and the reality of our fallen human nature. For example, premarital sex is not only sinful, it hurts true intimacy, violates trust and makes it more difficult to form a lasting marriage. The Church's wisdom can also be applied to cohabitation, separation, divorce, remarriage, single-parent families and teenage motherhood. These practices are bad not only for the soul; they can also detract from physical and emotional health.
Today cohabitation has replaced courtship. Children often come long before the marriage proposal. Many couples even reach such relationship milestones with past partners before their present ones. Statistics from studies on these topics have shown too many negative outcomes for the ones we love. It is time to do better by deciding to do the right thing before our marriages flat-line.
Decide, don't slide, through the milestones of your shared life. Pay attention to all the periods worth celebrating in your relationship – the engagement, wedding day and marriage. It may very well be what it takes to make "happily ever after" more than a storybook ending.
Reprinted with permission from FathersForGood.org.