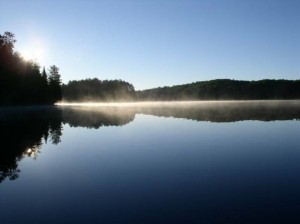 I remember sitting with my father in a boat on the middle of a still prairie lake. It was August of 1969 and I was sixteen years old. A cool mist rose from the surface of the lake that August morning. Fishing was good just after sunrise and so there we sat still half-asleep, casting our lines into the water.
It was the last summer he and I would have together. I think we both suspected it. Dad suffered a terrible series of devastating heart attacks the year earlier. My family almost lost him. He was only a shell of his former robust self; his health was destroyed.
We sat quiet and motionless. Occasionally a fish jumped and broke the water's glassy surface. A strange sensation came over me. It was as though we were suspended away from time, somewhere between heartbreak and eternity. A lonesome call of a loon came across the lake.  Its cry expressed the ache in my heart and it must have done the same to my father because he looked sadly at me. It seemed I was not looking into his eyes rather behind them.  In that brief second we lived centuries and our eyes filled with tears. We sat in that awkward state of emotion when neither of us dared speak for fear of weeping. Dad coughed to clear a lump from his throat.
A fish bit his line and startled him. He reeled in his catch and I passed him the net.  I sat silently looking at his venerable head as he leaned over the side of the boat lifting our breakfast from the lake. We fished in silence for a little longer then headed back to shore.  The experience changed me. I knew we had touched something akin to our eternal soul-bond and that the days of two hearts beating as one would soon be over.
My father died the next winter at the age of 52, while the two of us were downhill skiing. He took a heart-attack on the hill and collapsed in the snow ahead of me. I took off his skis and sat in the snow holding his body while someone went for help. My father entered the ages. For the first time in my life my heart beat alone.  I looked down into his lifeless eyes and remembered that earlier morning in the boat the previous August.  Not even death could break our soul-bond.
Longings for eternity
It's been forty-five years since that fateful day my father died, but time only increases my longing to be reunited with him in the perfect joy of Christ. It's my physical health that is destroyed now (multiple sclerosis).
Just as my Christian father shed his broken body, I must eventually shed mine. Our lowly diseased bodies will be transformed gloriously to be like Christ's. We will see Christ as he is. We will know as we are known.
Saint John wrote: "Beloved, we are God's children now; what we shall be has not yet been revealed. We do know that when it is revealed we shall be like him, for we shall see him as he is." (1John 3.2)
The Apostle Paul tells us that our Christian's citizenship is in heaven and that Christ "will change our lowly body to conform with his glorified body by the power that enables him also to bring all things into subjection to himself." (Philippians 3.21)
The more decrepit I become the more my desire for that final ecstasy of heaven increases. Infatuation with things of this world must be quieted. Dross of the temporal must be removed so that the gold of the eternal shines through. Anticipation intensifies desire.
Saint Augustine wrote: "Such is our Christian life. By desiring heaven we exercise the powers of our soul. Now this exercise will be effective only to the extent that we free ourselves from desires leading to infatuation with this world."
Love fulfilled
Followers of Christ must throw off infatuations with this world as we make our pilgrim way toward the Celestial City. Lighten the load! Everything in this world is passing away with the exception of you and me.  As image bearers of God, all humanity is designed for eternity. Our home is not here.
The only thing worth our investment here on earth is love of God and love for other people that the Infinite cultivates.  Everything else merely obscures the eternal waiting for us in Christ Jesus.
All temporal human love is but a cry, a moan, a longing for a deeper expression of unfulfilled desires.  It is unfulfilled because only in Christ can it be complete and Christ is God and God is author of love.
The love for a parent, mate, child or grandchild can only be complete on the other side of the grave.  Those who mourn a lost loved-one will be comforted (Matthew 5.4); they will laugh (Luke 6.21b). Sorrow and suffering will be turned to joy! Jesus promised it. Place your faith in him and his atoning sacrifice at Calvary.