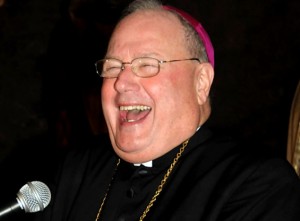 "It is time to cancel" the annual bi-partisan charity event known as "the Al Smith Dinner and all the other 'Catholic' traditions that have been hijacked by the world," recently asserted Msgr. Charles Pope in a column that was quickly removed from the official website of the Archdiocese of Washington, D.C.. "In the old days the death of 50 million infants was not what divided" the major political parties, the column continued. "But now we are being asked to raise toasts and enjoy a night of frivolity with those who think it is acceptable to abort children by the millions each year."
Since 1945, the annual Al Smith Dinner has raised millions of dollars for the needy children of New York City in honor of Alfred E. Smith, a 4-term New York State governor and the first Catholic to be nominated as a U.S. presidential candidate. In presidential election years, the Republican and Democratic presidential candidates have traditionally attended the Al Smith Dinner to indulge in some friendly roasting while taking a much-needed break from the campaign trail.
But the Dinner came under fire in 2012, when Archbishop of New York Cardinal Timothy Dolan invited contending candidates President Barack Obama and Governor Mitt Romney, even though the Archdiocese of New York had filed suit against the Obama administration over the Health and Human Services mandate requiring most employers to provide health insurance coverage for birth control. "The public perception of this event – especially with a picture of Cardinal Dolan laughing as he sits between President Obama and Governor Romney – is that the injustice of the HHS mandate leveled against Catholic institutions is not really that bad," noted one commentator at the time.
Cardinal Dolan nonetheless hosted this year's dinner as planned, raising nearly $3 million for the destitute women and children of New York. Seated at crystal-laden tables filling the burgundy and gold ballroom of the Waldorf-Astoria Hotel in Manhattan, the 850 guests listened to presentations from this year's honoree, philanthropist and Home Depot co-founder Ken Langone and guest speaker journalist Charlie Rose, as well as from Cardinal Dolan.
In this mid-term election year, the major political attendees in evidence were U.S. Senators Kirsten Gillibrand (D-NY) and Chuck Schumer (D-NY), as well as New York State Governor Andrew Cuomo. Other prominent New York City officials also attended, including Mayor Bill de Blasio, Police Commissioner Bill Bratton, Manhattan District Attorney Cyrus Vance, and former city mayor Michael Bloomberg.
All of the proceeds of the $2,000-a-plate dinner went towards the nearly 20 grant recipients, including Catholic Big Sisters and Big Brothers, the Inner-City Scholarship Fund, and Good Counsel Homes for pregnant women in crisis. The Al Smith Foundation itself underwrote the cost of the dinner, which included king crab salad with lacquered prawns, grilled tournedo of beef with white truffle risotto fritters, and a gingered chocolate dessert with salted caramel sauce. As Alfred E. Smith, IV, chairman of the dinner, explained, "The dinner's on us."
The dinner opened with a prayer from Cardinal Edward Egan, Archbishop Emeritus of New York, and a moving, unaccompanied performance of the National Anthem by Bryan Hymel, who is currently playing the role of Rodolfo in La Boheme at the Metropolitan Opera. Cardinal Dolan then presented philanthropist and Home Depot co-founder Ken Langone with this year's Happy Warrior Award for Langone's great contributions to New York City, including donating to the New York University Medical Center, which now bears his name, and becoming a major fundraiser for the restoration of St. Patrick's Cathedral on Fifth Avenue. The Happy Warrior Award "recognizes individuals who epitomize the character, grace, and leadership of Governor Alfred E. Smith … by having a positive impact on others and the City of New York," stated the dinner program.
In Langone's acceptance speech, he quipped that, considering the mandatory 75-year-old retirement age for cardinals, Cardinal Dolan might need employment soon. Offering the cardinal a job at Home Depot, Langone presented His Eminence with a bright orange apron and then a second, much bigger one, just in case the first did not fit his girth. Poking more fun at Cardinal Dolan's size, Langone joked, "If they ever change the rules about celibacy, I've got a perfect girl for you. Her name is Jenny Craig!", referring to the popular weight-loss program.
Acknowledging that his fundraising efforts on behalf of many Republican presidential candidates had not borne fruit, Langone said it just went to prove the old adage that you keep your enemies close and your friends closer, but apparently out of the White House. Then he laughingly threatened the Democrats in the audience that he would do a fundraiser for Hillary Clinton, thus ensuring her failure in any bid for the presidency.
To much applause, guest speaker Charlie Rose, host of the PBS show Charlie Rose and co-anchor of CBS This Morning, stated that "the reason I came this evening was because of Cardinal Dolan. I love him." But Rose wondered why he had been invited to speak, when so many famous people had stood at the podium before him. "I don't have the stature of Churchill, the wit of Kennedy, or the comedy of [last year's guest speaker Stephen]Colbert. But I'm not worried. I'm a Protestant at a Catholic charity event with jokes written by Jewish writers. I'm okay."
Referring to the tradition of inviting presidents and presidential candidates to the dinner, Rose quipped that the Al smith Foundation "has already received an RSVP from Hillary [Clinton] for 2016." In an equal opportunity jab at Democrats, he claimed that President Barack Obama "came to the U.N. hoping to meet with the President of Iran but Rouhani does not play golf."
Continuing in the same light-hearted vein, Rose pondered what would happen if Pope Francis retired, as Pope Benedict did before him. Then, there might be "three popes — one for venial sins, one for mortal sins, and one for cardinals!" Turning then to more serious matters, Rose stated the importance of dialogue between people who often find themselves on opposite sides of the fence. The Al Smith Dinner, he said, is where "serious people can talk about serious things" without the need to offer spin or soundbites. Respectful dialogue can form a "bulwark against hate and extremism," Rose said, and that is why he feels so impressed by Pope Francis' demonstration of a genuine "respect for discourse."
After Charlie Rose finished his speech, Cardinal Dolan took the stage for some closing remarks. The Cardinal first mentioned his deep affection for Happy Warrior Award recipient Ken Langone and his wife Elaine. The Cardinal stated that Ken's secret was "a woman named Elaine," but "there's another woman in Ken's life and her name is Holy Mother Church. He begins each day with her," apparently referring to Langone's habit of attending daily Mass.
Perhaps in answer to protests against the Dinner, the Cardinal emphasized the importance of political opponents like "a Kennedy and a Nixon … an Obama and a Romney" coming together in joy and fellowship in a way that helps others. "Joy is the infallible sign of God's presence," he said. The Cardinal then ended with "a simple prayer" that God bless the attendees and the entire great city of New York. To which we can all say, "Amen."
"Modified from an article which originally appeared on Aleteia with the authors permission."