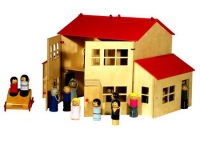 Okay, now this is just sad.
Toys help children to learn and prepare them for life.  That's why industrial designer Ben Forman (benformandesign.co.uk) has introduced a new dollhouse to help today's modern preschooler prepare for the inevitable unhappy changes in her family structure.  It's called Detacho.
Detacho families, like so many contemporary American families, can reconfigure themselves, either expanding with the birth of new siblings, or separating into smaller groups of married or divorced or cohabiting adults and their complacent children.  And Detacho dollhouses meet the need—transforming from a single-family home with its smiling parents into two or even three smaller units, able to house new stepparents and step siblings, or two mommies, or to adapt to whatever the parents' new living situation might be.
Detacho mommies and daddies are sometimes happy, and then they are all kissy-face, attracted to one another.  But sometimes the stress caused by daddy's extramarital affair makes mommy so angry she'd like to starch his shorts.  Then, with a quick twist of the hairdo, smiling Detacho mommy turns into frowning, unhappy Detacho mommy.  And thanks to the magnets implanted inside their skulls, smiling Detacho mommy and daddy can kiss, but frowning, angry Detacho parents repel one another.  The best that frowning Detacho parents can muster, if forced to be nice in a social situation, is a hasty air kiss, cheek to cheek.
Ben Forman thinks it's good to prepare children for the harsh reality of divorce.  With Detacho, children can project their feelings onto the play scene.  They can practice feeling lonely and scared, and waving goodbye to daddy and his new girlfriend.  They can play at getting along with a bossy new big brother who has just moved in.  They can hide from mommy's new boyfriend, who's always checking the fridge for another beer.
I now see that the dollhouse I played with as a child was completely inflexible.  With only one mommy and one daddy, one little girl, one little boy, and one baby, my dollhouse family had to learn to get along and to love one another.
How deprived was my childhood!  Or was it…?