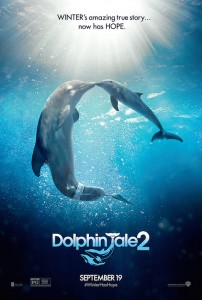 As theaters are drowning in action movies and superheroes, a different kind of hero has made a second cinematic splash. Dolphin Tale 2 is a heart-warming, family friendly, and entertaining flick, featuring the unlikely protagonist, Winter; a dolphin without her tail.
In case you missed the first Dolphin Tale, this based-on-a-true story movie focused on the people of Clearwater Marine Aquarium (CMA) in Florida and their unlikely struggle of aiding a dolphin, named "Winter" who has lost her tail after it tangled in a crab net. Eventually, an advanced and experimental prosthetic tale is created and fitted for her, and the dolphin without a tail or any hope regains her ability to swim, while inspiring quite a few people in the process.
Almost unbelievably, this true story has a sequel. While the first movie is about overcoming seemingly insurmountable obstacles, the second is all about Hope.
The movie kicks off with themes of bureaucratic red tape and death. Dolphins are social creatures, and need other dolphins around in order to maintain their health. Winter's elderly tank-mate has passed away, leaving the aquarium in a quandary: the only other dolphin there is ready to be released into the wild. That leaves no options for Winter to have a partner, and no way for the CMA to keep her.
Faced with the choice of keeping another dolphin at the aquarium, who could live a happy life in the wild or giving up their beloved Winter, head of the aquarium, Dr. Clay Haskett (played by Harry Connick, Jr.) chooses to fulfill his aquarium's mission of "Rescue, Rehab, Release" and risk Winter being taken.
When it seems all doors are closing, a sliver of light shines through, in the most unexpected way. Right as the aquarium is preparing to lose Winter, an abandoned baby dolphin is rescued and brought to the Clearwater Aquarium, and is aptly named "Hope."
Not all is well, unfortunately. Hope and Winter do not get along and Hope poses an actual physical threat to Winter. In the meantime, Dr. Haskett and his teen-aged daughter, Hazel, (Cozi Zuehlsdorff) are struggling to come to terms with their rapidly changing relationship. Hazel wants to claim her own independence, and be taken more seriously around the aquarium.
Sawyer Nelson, (Nathan Gamble) who aided in Winter's initial rescue and rehabilitation is also coming into his own and stumbling along the road of teen-aged-hood while learning that choosing what's best for yourself, doesn't mean ignoring everyone else in your life. Perhaps the most endearing relationship of all is the annoying resident pelican and self-appointed guardian angel of a sea turtle who, apparently, doesn't care to return his friendship.
I initially did not have very high hopes for being entertained or inspired by Dolphin Tale 2. Not being one for animal movies or "heartwarming" stories about familial relationships, I was pleasantly surprised by how much I sincerely enjoyed this. Charles Martin Smith is a brilliant screenwriter, who breathed new life into the traditional trope of parent/teenager conflict, while being able to touch us with a most unusual story of a dolphin without a tail and then an orphaned dolphin's relationship struggles.
The characters were delightfully organic and natural. Smith, while writing the sequel, had the advantage of knowing exactly which actors he was writing for, and his craftsmanship of the dialogue and character development is spot-on. The film is also beautiful cinematically and captures the feel of Clearwater, FL including its fish, birds, turtles, and of course, dolphins, up-close and personal.
Dolphin Tale 2 is an antidote for the lack of entertaining, family-friendly films with its positive message of respect, perseverance, and character. It's a heart warmer and I bet after watching it you'll walk out with a smile on your face and Hope in your heart.