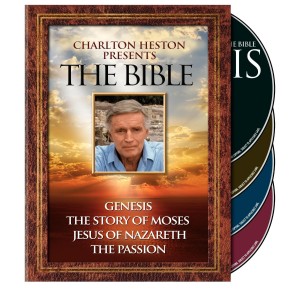 "I'm not a priest or a scholar.  I'm an actor.  I tell stories."  These words spoken by the legendary Charlton Heston summarize the theme of the re-released 4-disc DVD set, Charlton Heston Presents the Bible.  The DVD titles include Genesis, The Story of Moses, Jesus of Nazareth and The Passion.
In the mid-1950's, the actor visited the Holy Land while researching and filming his role as Moses in the great epic, The Ten Commandments.  Ever since, he's been drawn to that region again and again in search of a greater understanding of the best-selling book in history, the Bible.
"No other book changed the world like this one.  How did that happen, just with stories, words?"  Heston wonders aloud.  His mission is to recapture the original format of the stories in the Bible, passed down orally from generation to generation by skilled storytellers.  These orators related the stories of Adam and Eve, Noah, Abraham and Moses to spellbound audiences gathered around ancient campfires long before they were written. 
Instead of a campfire, Heston makes use of various holy places in Jerusalem and beautiful works of art to provide a backdrop for his narration.  He recites verses from the King James version of the Bible, bringing life to the poetic verses as only a talented actor can do.  It reminds me of the difference between reading a Shakespeare play and actually watching it performed on stage.  This is not an acting out of the stories of Genesis, Exodus and the gospels but an inspired recitation by one of the greatest actors of our time.
Although I have read the Bible and attended several different Bible studies, I enjoyed the fresh perspective and obvious passion for the subject matter that Charlton Heston brings to these familiar stories.  He skillfully weaves in history from the locations in the Holy Land he visits during the narration, making these DVDs both entertaining and educational.
The informational 30-minute "Behind the Scenes" bonus feature adds more background on the conception and filming of the series.  It also includes  interviews with the producer and directors, including Charlton Heston's son, Fraser Clarke Heston.  My one complaint is that this same feature is included on each of the four DVDs.  I expected more "extras" in a set like this.
I plan to show these DVDs to my children during Holy Week as a reminder of the beginning of Salvation History and its culmination with the story of Jesus' Passion and Resurrection.  (Parents should be aware that some of the artwork shown in the Genesis DVD includes nudity.)  This set would also make a nice Easter gift for a friend or family member who would like to learn more about the Bible.  It is sure to inspire many to dust off the Bible with a renewed eagerness to read more of the amazing stories it contains.
Charlton Heston Presents the Bible, 4-DVD set, is available March 29th.