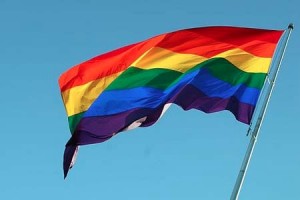 Eleven countries announced they will continue to hoist the rainbow flag at the United Nations despite setbacks in recent years.
U. S. Secretary of State John Kerry and officials from ten countries promised to promote homosexuality at the United Nations in a declaration issued last week. The "Core LGBT Group," as the eleven countries are called, committed to "concerted action" for lesbian, gay, bisexual and transgender (LGBT) rights.
The statement commends countries that have repealed sodomy laws, enacted hate crimes legislation and have other special protections for homosexuals.
Kerry tried to be upbeat about the progress of LGBT rights at the United Nations, and described recent developments as "unfathomable" in a statement released through the U.S. State Department.
But the path to get nations to celebrate homosexuality remains a steep one, as homosexual groups have found out in recent years.
Despite intense efforts by the United States, the terms "sexual orientation" and "gender identity" are part of only one General Assembly resolution. That resolution is about extrajudicial killings, and even so, it always comes down to a close vote.
In 2010, the United States promised a General Assembly resolution on homosexual rights. Such a resolution does not have enough support from UN member states. Skeptics say the recent declaration amounts to little more than a press release, and merely panders to constituents that want LGBT rights.
Most countries in Asia and Africa object to homosexuality. Globally, 80 countries have sodomy laws. Less than 20 recognize same-sex couples, and only 14 allow persons of the same sex to marry.
The UN's top human rights official, Ms. Navi Pillay, who has spearheaded the LGBT cause at the United Nations in recent years, has met resistance at every turn. Countries resent that her staff receives earmarked funds for LGBT rights from Nordic countries and still asks for more money from the UN budget.
Aware of these challenges, the United States is funding homosexual activists abroad. The Global Equality Fund, which has disbursed $7 million since its launch in 2011, has expanded with the help of Nordic countries and private sector partners. Obama has announced an additional $12 million in the fund.
Only Argentina, Brazil, Croatia, the European Union, France, Israel, Japan, the Netherlands, New Zealand, Norway, and the United States attended the meeting. They described it as a "groundbreaking" UN event. The event was not advertised in the UN Journal, which lists official UN meetings, and took place in a small room in the Secretariat building.
A spokesperson for the secretariat said the meeting had been "announced" and that any of the 194 UN member states could have asked to attend. Russian diplomats, who have been under fire for Russia's laws to protect children from harmful sexual propaganda, reportedly said they were not aware the meeting was taking place.
The group of countries was joined by the Office of the High Commissioner for Human Rights (OHCHR), Human Rights Watch and the International Gay and Lesbian Human Rights Commission.
Even though no international treaty mentions LGBT rights, these groups say international law requires special new rights for homosexuals that include privileges for same-sex couples, recognition of transgender identities, and hate crimes laws with special enforcement mechanisms, among others.