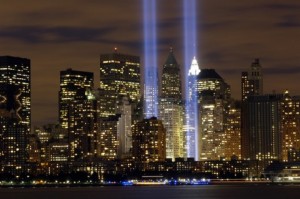 For America 2001 was annus mirabilis.  And so it was for me in terms both personal and professional.
The year brought a great honor in the form of my confirmation by the U.S. Senate to run the Office of Water at the Environmental Protection Agency, pursuant to my nomination by President George W. Bush.  The year ended with me fighting for my life against a bizarre form of cancer.
In between was the terrorist attack on the twin towers.  My life as a government official was transformed as was mine as a citizen and human being experiencing an attack on our country, an entirely new and unsettling experience, unknown to most Americans except for those alive on December 7, 1941.
As almost everyone who has spoken of September 11th recalls, it was a beautiful day, not a cloud in the sky, sunny but not hot.  I recall being called out of a senior staff meeting to take a call.  Returning to the conference room, the staff was silent and clustered around the large television screen displaying the smoking tower inNew York City.  The day only became more horrific.
My wife, still inMichigan trying to sell the house, came home from morning Mass to find several friends from the neighborhood standing outside our house, with somber looks on their faces, to enquire if I was safe.  The uncertainty and fear was already cascading across the country.  My better half recalls the assumption on the part of many of her neighbors that we would not move the family after such an event, a thought that never crossed our minds.
Back in Washington, as the full horror of the day unfolded, and the federal city shut itself down, I was relieved to hear from my oldest daughter, recently married and living near theIwo Jima monument.  She had to ditch her car at George Mason's Law School in Arlington, where she was a student, and walk home.  She could see the smoke from the Pentagon from the upper floors at school.  Moreover, traffic in that part of northernVirginia had come to a standstill, at least on the main arteries.  She still remembers the fighter jets soaring overhead at low altitude on her way home.  Her husband was a new Army surgeon and rumors of war were impinging on her consciousness. 
By the way, this son-in-law has already done one tour in Iraq, and has another coming up in Afghanistan early next year while my daughter and her children keep the home fires burning.  Another son-in-law has done a tour in Afghanistan also.  These, too, are consequences of the remarkable year 2001.
I had tarried at the office while the building emptied out.  Late in the afternoon I was able to drive home without too much difficulty across the 14th street bridge and into the Del Ray section of Alexandria where I was doing a reprise of bachelor life, living with my son and several of his friends, all great guys. They were very tolerant of this older guy who was boarding with them, on the cheap, while he waited on a buyer for his house back in Michigan. 
We lived in a small, charming, white frame house with a porch.  Colleagues at the agency began referring to it as the "frat house."  One wag even asked me when the keg parties were starting.  Yet, on the evening of September 11th, it was a somber group which sat silently on the front porch listening to a steady wail of sirens heading to and from the Pentagon all night long.
I cannot recall the exact date, but on a night subsequent to the attack, after the sirens had ceased, someone within earshot played a haunting rendition of taps on their trumpet audible from that same front porch inAlexandria.
Later that fall I recall giving an opening address to one of the big water conventions, this one inAtlanta, telling the audience that, even in the national water program, we were part of a "war government." In fact, quite a bit of time was spent at EPA on everything from emergency response in Manhattanand the establishment of a new water security effort in line with the homeland security initiatives of the administration.  Overnight, getting into a federal building became, literally, a federal case.  Evacuations to alternate office locations in the event of an attack were rehearsed from time to time.  Again, the world had changed.   
The Friday before Christmas, I was walking through the massive Pentagon itself, for a meeting at the Army Corps of Engineers.  I felt totally exhausted.  I thought I was having a heart attack.  I called my wife, a former nurse and absolutely a rock in a crisis, who advised me to come home.  I did.  After a quick bite to eat, we went to the emergency room at Reston  Hospitalwhere I was informed, by a nurse who had a very troubling look on her face, that I did not have hardly any blood worth a damn running in my veins.
"Mr. Mehan, I am amazed you could walk in here from the parking lot," she said. 
That was how 2001 ended for me.  Fortunately, my story turned out happily thanks to prayer and the fine people at Johns Hopkins in Baltimore, city of life.
Many Americans and other innocent people across the globe have died, not only on September 11, 2001, but since.  They are all in my prayers, especially on this Saturday.