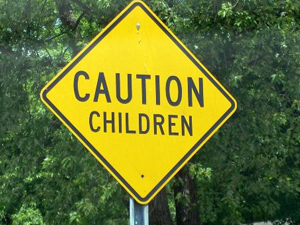 The other day I opened the front door and found my two kids engrossed in play, drawing chalk pictures on the front stoop.  Oblivious to my presence, their conversation became louder and more strident, until at last Sarah stood up and faced her brother, fists on hips.
"How many times do I have to TELL you?" she shouted. "When are you going to LISTEN to me? It's my job to take care of you, and it's your job to listen – and if you won't listen, you make my job very difficult!"
Christopher didn't even look up.  He just kept drawing.
It would have been funny . . . if I hadn't made the exact same little speech just that morning.  Same intonation.  Same volume.  And, regrettably, the same results.
Somewhere along the line, I confess, I've been bitten by the "nag bug": the unfortunate tendency to remind those I love – over, and over, and over again – whenever they engage in behaviors or say things that are not conducive to happy family life.  As I'm sure you can imagine, this kind of "constructive criticism" is not the most effective behavior modification tool.  Frankly, more often than not it just starts an even greater conflict.
So, what's the alternative?
One of the things I love most about my kids' school is their emphasis on "global virtues" – moral qualities valued by civilized nations and cultures around the world:  integrity, honesty, compassion, perseverance, gratitude, kindness, wisdom, gratitude, and self-control.  These virtues, infused with high academic ideals, are the winning combination that turn today's children into tomorrow's leaders.
Because parents are the first and most important teachers of our own kids, we need to model the same values in family life that they are learning in school – children can learn only so much in the classroom.  But what do these virtues look like in the "real world," especially in family life?  Perhaps just as importantly, what are the little "short cuts" and habits that encroach on everyday family life that are good to eliminate (for the same reason)?  Over the next few weeks, I hope to look at one of these virtues in each of my upcoming columns. Stay tuned!
Back to Chez Saxton.  Later that night, my husband strolled in the door long after the children were in bed.  Now, Craig and I don't agree – have never agreed – on what constitutes a "normal" workday.  I happen to believe that consistently working 12-14 hours a day, seven days a week, make it impossible to maintain anything approaching a healthy quality of life.  Craig, on the other hand, has worked all his life for a family business, where the line between personal life and business is routinely obliterated.  To say that this has been a sore point between us would be something of an understatement.
So when Craig walked in that night, I was already in "nag" mode, pointing out that it had been three days since he'd last had a decent night's sleep.  "It seems like I can never make anyone happy," he grumbled.  "I catch it at work, at home . . . and now even my piano teacher is mad because I didn't practice enough!"  Moments later, he was passed out on the couch, where he stayed most of the night. Again.
Now, I've lived with this man for over eleven years.  I KNOW that nagging doesn't get the desired results.  And, thanks to Christopher and Sarah's little morality play on the front steps that afternoon, I realized that my unhappiness was affecting them as well.  I needed come up with a healthier alternative, to "exterminate the nag bug," if you will.
I turned to my Facebook friends for suggestions.  Someone suggested that I should look past the behavior to the underlying cause of the problem – both on his end and my own.  Still others suggested that I just shut up and pray for my husband.  One person reminded me, privately, that I should just thank God that my husband has ANY job in this economy, and leave him alone.
In the end, I decided to try some combination of the three.  The great medieval mystic, Bernard of Clairvaux, taught that there are four levels of love:  Love of self for self's sake, love of God (and others) for self's sake, love of God (and others) for their own sake, and love of self for God's sake.
I realized that, to love someone for his own sake (rather than what I need from that person), is a liberating choice.  It keeps me from trying to control another human being . . . and keeps my focus on how I can be a blessing to the one I love, rather than one more problem to manage.  Even if the other person never changes (a real possibility), this approach minimizes the effect of the problem in the marriage, and on the family.  It also gives God a chance to work in the heart of the other person.
And so, I started looking for ways to show Craig how much I love and appreciate him.  A new set of sheets, so he doesn't have to wrestle with the corners of the old ones that keep slipping off in the middle of the night.  A surprise treat in his lunch – and a little extra spice at dinner (he loves spicy food, while the kids and I tend to prefer blander fare).  A little more lipstick, a little less gym gear.  An e-mail at lunchtime, to let him know how much I'm looking forward to see him that night.
Above all, every time I'm tempted to snipe and snarl, I breathe a little prayer instead.  Lord, help me keep my heart open and my mouth SHUT.
One week into the experiment, and he still works too hard.  But at least I'm feeling better!
How do YOU exterminate the "nag bug"?  How do YOU model self-control in your own family?
(c) 2011 Heidi Hess Saxton