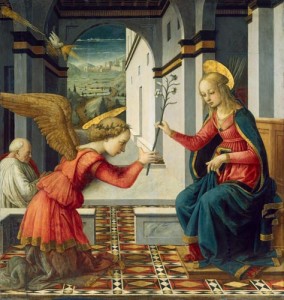 One of my most fond memories of my semester in Rome was from our trip to Northern Italy. We visited quite a few museums and beautiful churches, yet one moment that stuck with me was our visit in Florence.
After a long and beautiful Tuscan day, several of us went to a bar. Nights like these, spent in small bars after dinner and before curfew, were great opportunities to reflect on the beauty we'd been graced with.  This particular night, after discussing a praise and worship bonfire that a couple friends had planned in rural Kansas, we started talking about our favorite mysteries of the Rosary. At the time, I didn't have much one; after a few months of reflecting on it (and of course, praying more rosaries), one stands out more than the others.
The first three Hail Marys in the rosary have always intrigued me. I learned to embrace those three beads to pray for the three theological virtues: faith, hope, and love. These virtues are ultimately what we need to survive the challenges of the Christian life, and they are also displayed beautifully by the Virgin Mary in the mystery of the Annunciation.
In the Gospel of Luke, the Annunciation of Mary is preceded by the Annunciation of the birth of John the Baptist. While Mary says only a few words in response to Gabriel, comparing her responses to those of Zecheriah is illustrative of the theological virtues. On the surface, the encounters are very similar: both Zecheriah and Mary show anxiety in the face of the appearance of the angel and his message, and both Zecheriah and Mary question the angel as to how this promise of God can be carried out. However, the response of the angel to each is quite different.
To Zecheriah, Gabriel responds, "Behold, you will be silent and unable to speak until the day that these things come to pass, because you did not believe my words, which will be fulfilled in their time" (Lk 1:20). This reveals to us that Zecheriah, even after praying for a child, lacked faith in the angel's proclamation. It is in some sense an act of poetic justice that Gabriel strikes Zecheriah mute, silencing the lips that said prayers without the concomitant faith that they would be heard and answered.
This can further be seen in Zecheriah's response that prompted such action: "How shall I know this? For I am an old man, and my wife is advanced in years" (Lk 1:18). Zecheriah should have known that God can overcome the biological limitations of age that come in the way of childbearing. As a priest, he would have been well schooled in the Scriptures; he would have known the story of Abraham, of Samson, and of all the faithful who were given children by the Lord. But in this moment, his faith faltered.
The response to Mary is different. Mary's response to Gabriel seems similar to Zecheriah's response at first look: "And Mary said to the angel: How shall this be done, because I know not man?" (Lk 1:34). While this can be read similarly as a question regarding how God can overcome purely natural limitations, Mary's response was read by several Fathers (such as Augustine in On Virginity) as indicating she had made a vow of perpetual virginity in service of the Temple.
If this possibility is entertained, Mary's response can be understood as a heartfelt request for understanding: how could this revelation tie in with her life and the commitment she had already made to serve God? Gabriel's response discloses the mystery of the virginal conception of Jesus: Mary was indeed to serve the Temple as a virgin, by becoming the Temple of the Lord and bearing him within her womb and providing him with care and nurture throughout the whole of his life on Earth.
Mary's response to the Annunciation shows the virtues of faith, hope, and love, and shows us how we can embrace them in our own lives as Christians. Her first response, in asking how the message of the angel will come to pass, shows her openness to the plan of God in her life, contrasting the skepticism of Zecheriah. According to the Catechism, "The Virgin Mary most perfectly embodies the obedience of faith" (148):  In our lives, we often encounter problems where there is no easy way out, and we can't understand why we have to face them; we are each called as Christians, to a certain way of life as is fitting to God's will for our lives and his love for each of us as he created us.
While difficult, our callings, while many and distinct (as Paul writes in 1 Cor 12), all require our trusting faith in the Lord. Mary's second response shows how her faith leads to her hope: "And Mary said, "Behold, I am the handmaid of the Lord; let it be to me according to your word" (Lk 1:38). She affirms her desire to serve the Lord, and the use of the future tense and receptive mode in her fiat shows her acceptance of His will and desire for it to be fulfilled: faith leads to hope, as our trust in the Lord leads to our desire for the fulfillment of our happiness in Him. Hope in turn leads to love, and Mary's love for God is deeply connected to her love for neighbor – the Annunciation lead seamlessly to the Visitation, as Mary, although full of her own concerns, journeys to help and be with her cousin Elizabeth.
This in turn should mirror our lives as Christians – our faith, and our hope, and our love for God should be tangibly visible in our love for our neighbor. This tangible and visible love is perhaps part of why Pope Francis is popular with the media – something that we need to show in our own lives. When we pray, especially when we pray the Rosary, we need to ask for the strength of virtue required to love one another in accordance with our Christian faith and hope. This ultimately is the test of our lives: "By this shall all men know that you are my disciples, if you have love for one another" (Jn 13:35).