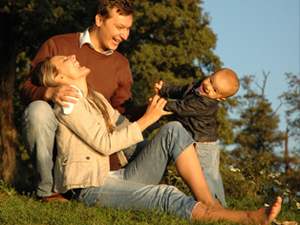 I am going to go out on a limb here and talk a little about Ephesians Chapter 5.  First let's quote it, and then I'll proceed to my thoughts on the topic:
"Be subject to one another out of reverence for Christ.  Wives, be subject to your husbands, as to the Lord.  For the husband is the head of the wife as Christ is the head of the Church, his body, and is himself its Savior.  As the Church is subject to Christ, so let wives also be subject in everything to their husbands.  Husbands, love your wives, as Christ loved the Church and gave himself up for her, that he might sanctify her, having cleansed her by the washing of water with the word, that he might present the Church to himself in splendor, without spot or wrinkle, or any such thing, that she might be holy and without blemish.  Even so husbands should love their wives as their own bodies.  He who loves his wife loves himself."  Ephesians 5:21-28
All right, a mouthful of a quote, but now that it is out of the way, some thoughts.
Death, Judgement, Heaven, and Hell
There I was, listening to a talk by Fr. Shannon Michael Collins on that most invigorating of subjects, hell.  He was describing in detail the pains and suffering of hell as shown to St. John Bosco in the good Saint's dreams.  I'm not going to go into detail, leave it to say that the hell was certainly scared out of me.  Since fear is merely the beginning of wisdom, I accepted that special grace of a conversion of heart very readily, but with only a shadow of an idea of how far I had (and still have) to go.  Fewer and fewer days go by when I don't dwell on the fact that hell is real, painfully eternal, and if the Saints worked out their salvation in fear and trembling, perhaps I should too.
What does this have to do with Ephesians?  Well, when you devoutly dwell on hell you begin to have light shed upon your various daily activities.  In addition to praying for final perseverance and perfect contrition rather vigorously, you begin to rigorously ask yourself, "In what ways am I sinning?"  And God answers you.
In the past, I examined my conscience as if I were looking for the sins of an individual within a community.  Thanks to the grace of God working through Fr. Collins, and the grace that has led me to my state in life as a Marine Officer, husband and father, my thinking on examinations of conscience has entirely changed.  Radically changed.  I'm sure all you other fathers are already at this point, but I sure wasn't.  Now, I cannot get out of my head the reality of my headship of my family, and the very real responsibilities that come with this role.
Responsibilities of Headship
If it is true that the salvation of a priest, the salvation of a bishop, and the salvation of our Pope rests on their efforts and prayers for the faithful and their pursuit and defense of Christ, and if their judgments will contain a reckoning of their successes and willful failures in that position of grave responsibility, then how can we as fathers not expect a similar (if not quite so dramatic) judgment?
While we are not indelibly marked as priests, nonetheless we as husbands have been given the role of head of the home, and this "headship" is directly compared to that of Christ's, much like a priests.  It seems obvious to me that in the home we have responsibilities similar to the pastor of a parish, just as he possesses responsibilities similar to that of the bishop, and the bishop to the pope.  If this is the case, then we need to do three things as fathers.  First, we need to preserve our families from intellectual error, secondly we must preserve them from moral error, and thirdly we must do so in such a way that is generous, honorable, or to sum up, in a manner that is loving.

Failure in Leadership
I'm a Marine Officer, my father was a career Marine Officer, and my father-in-law is a Captain in the Navy.  I've been around the Marine Corps my entire life and I've seen some great commanders, some good commanders, some poor commanders, and some just plain ol' bad ones.  While there are some Marines in a command who will do stupid things, much can be avoided by an ordered and strong commander.  Some say that it is better to be feared than loved, what they mean it is better for troops to obey and follow orders based in fear rather than they have no respect for you.  To be truly loved by your troops you must be respected.  You do not get respect by having the whip out every minute of every day.  You get it by putting the troops' welfare before your own.  Everyone knows that mission comes first, what is always in question with a new commander is whether he is in it for himself, or if he is in it for his troops.
Frequently those in it for themselves rule solely by rules, and fear.  Usually those in it for the troops, though they will discipline when necessary, they make it obvious beyond a doubt that the troops come first.  They forego privilege and comfort until their Marines have had an opportunity to oblige themselves of food, or sleep first.  They involve themselves in their Marines' lives, and ensure that at home, on liberty, or on duty if their Marines have a problem they know they can go to him for assistance.
When mutiny happens, when grumbling happens, it is all a result of poor leadership.  Either a bad apple wasn't dealt with accordingly and the leader pandered too readily to the passions of his troops, or he has dealt overly harsh with them while heaping comfort, and leisure upon himself for no end other than his own uplifting.
Whatever happens in a command is the responsibility of the commander, except for success, the credit for success always goes to the troops.  The same for the family and its husband.  If your children and wife fall because you failed to decisively defend the hearth and home from error, you can be sure to hear about it in a way they will never hear about their responsibility for your fall (because they don't have any), but if they flourish, it is thanks to God's grace and their compliance with His gifts.
Ephesians 5
Regardless of what particular measure of charity God will judge your wife, the reality is that He will judge you based on your charity.  You may be judged (I don't know, I'm not a mystic nor a theologian) on how well you complied with God's grace to love your family.  To love them simply because that is what God wants you to do, not simply because it is good in itself, but because it is His will that you do so.  And loving them as He wants you to love them means you will do your utmost to protect them from intellectual error, protect them from moral error, and create a generous and honorable atmosphere (command atmosphere we call it in the Marines) that is conducive to their own growth in Faith, Hope, and Love.
Regardless of what you think the wife's role is, the husband and father is the servant of the servants.  All his energies, all his decisions, his entire life is subordinated to the cause of leading his family to everlasting joy in Heaven.  Perhaps this is what Paul meant when he first exhorted that husbands and wives be subject each to the other, right before he goes on to explain the particular character of each half's subordination.
Originally published on Ignitum Today and is reprinted with permission.