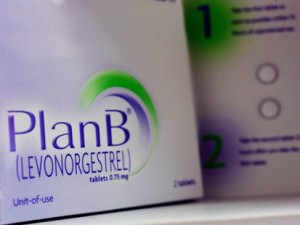 It is difficult to imagine that any public official could possibly march to the left of Barack Obama or HHS Secretary Kathleen Sebelius, but last week Federal District Court Judge Edward Korman did just that when he approved the sale of Plan B to children of any age. Previously, Sebelius ordered that based on the science, children were not capable of complying with the directions of safe use of the drug. Here is Sebelius in her own words not too long ago:
A Statement by U.S. Department of Health and Human Services Secretary Kathleen Sebelius:
Plan B One-Step is an emergency contraceptive, sometimes referred to as the "morning after pill." Plan B One-Step is currently labeled over the counter to women ages 17 years and older, but is sold behind the pharmacy counter. It is available by prescription only to women 16 years and younger. My decision does not change any current availability of the drug for all women.

In February 2011, Teva Women's Health Inc. submitted to the FDA a supplemental new drug application for Plan B One-Step. This application sought to make Plan B One-Step available over the counter for all girls of reproductive age. The science has confirmed the drug to be safe and effective with appropriate use. However, the switch from prescription to over the counter for this product requires that we have enough evidence to show that those who use this medicine can understand the label and use the product appropriately. I do not believe that Teva's application met that standard. The label comprehension and actual use studies did not contain data for all ages for which this product would be available for use.

FDA has recommended approval of this application in its Summary Review for Regulatory Action on Plan B One-Step. After careful consideration of the FDA Summary Review, I have concluded that the data, submitted by Teva, do not conclusively establish that Plan B One-Step should be made available over the counter for all girls of reproductive age.

The average age of the onset of menstruation for girls in the United States is 12.4 years. However, about ten percent of girls are physically capable of bearing children by 11.1 years of age. It is common knowledge that there are significant cognitive and behavioral differences between older adolescent girls and the youngest girls of reproductive age. If the application were approved, the product would be available, without prescription, for all girls of reproductive age.

The Secretary of the Department of Health and Human Services is responsible, acting through the FDA Commissioner, for executing the Federal Food, Drug, and Cosmetic Act. Today's action reflects my conclusion that the data provided as part of the actual use study and the label comprehension study are not sufficient to support making Plan B One-Step available to all girls 16 and younger, without talking to a health care professional. Plan B One-Step will still be available over the counter to women ages 17 and older.

Because I do not believe enough data were presented to support the application to make Plan B One-Step available over the counter for all girls of reproductive age, I have directed FDA to issue a complete response letter denying the supplemental new drug application (SNDA) by Teva Women's Health, Inc..
Sebelius received Obama's support for her decision. From news reports at the time of the ruling:
Obama said that as a father of two daughters, he thinks the government should "apply some common sense" to rules governing over-the-counter medicine. He said he understood Sebelius' concern about letting medication with potentially adverse side effects be available to 10-year-old girls "alongside bubble gum or batteries" at drugs stores.
"I think most parents would probably feel the same way," he said. Asked point blank if he supports Sebelius' decision, Obama said, "I do."
While the Judge said that his decision was supported by science, it remains for the Judge to enlighten both the regulatory and scientific/medical communities as to what secret studies he was privy to in his decision-making. The truth is that every study, including those by Teva, the manufacturer of Plan B, indicate that half of all women taking the drug were incapable of following the directions on the product insert for correct use of the drug and/or failed to understand that Plan B is not meant to replace regular contraceptives or be used more than once in a menstrual cycle.
Further, studies have indicated that when used by teens the rate of Chlamydia infection rose (presumably from increased sexual activity). Additionally, studies have indicated that the incidence of teen pregnancy was not lowered by the use of Plan B.
Perhaps even more disturbing is the lack of understanding by the judge that children's medications are dispensed on a milligram of drug per kilogram of body weight basis. This is because standard adult doses would be double, triple, or even quadruple the necessary amount in children whose bodies are often 1/4 the mass of an adult's. There are no known studies of the effects of the single, adult dose of Plan B on girls under age 18, which makes the specter of girls twelve and thirteen years old purchasing this drug over the counter just as frightening as can be. There are also no long term studies of Plan B's. effects on adults, either. So the whole enterprise is one, large human experiment.
It isn't impossible to imagine a young girl whose body mass is half that of an eighteen year-old's taking this dangerous hormonal drug after every act of sex, up to several in one month. This drug is several times the dose taken daily by women using oral contraceptives. Recall that half of all grown women studied couldn't grasp this reality.
Our daughters have become lab rats in Judge Korman's great experiment. Better he should leave such matters to those of us trained in the field, and that he stick to the law. It is now open season on girls, whose gynecologic standard of care would be improved if they were accorded the same standards that govern veterinary medicine. If vets did to animals what we do to our women, they would lose their licenses and be prosecuted for cruelty. That's how far gynecologic medicine and its governmental regulation have sunk.
Below is an interview I gave earlier this year at a medical conference in Washington, DC, dealing with this issue of targeting children.