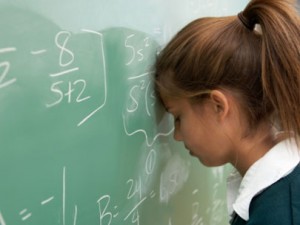 I didn't use to believe in medication for Attention Deficit Hyperactivity Disorder (ADHD).  Truth be told, I didn't used to believe in ADHD at all. Nobody was ever diagnosed with it when I was a kid back in the 1970s. Now, it seems to be everywhere. "Perhaps as many as two million American kids" now suffer from it, and "on the average, at least one child in every classroom in the U.S. needs help with the disorder," according to current estimates.
My mom and I talked about ADHD when it first started appearing in major news reports. "This is ridiculous," she asserted. "If this had been around when you were younger, you would have been diagnosed with it. But you were fine." (Hmm.) "Yeah, ridiculous!" I agreed, somewhat over-emphatically.
Given my scoffing skepticism, perhaps it was cosmic justice that my eldest child ultimately received a diagnosis of ADHD. Kindergarten schoolwork hit us like the proverbial ton of bricks. First, I yelled and screamed and fought with my daughter. Not my finest hour.  Then, I yelled and screamed and fought with various school and medical officials to get help for our daughter, who found reading, writing and arithmetic to be so terribly difficult. We obtained preferential seating and extra time on tests, we hired tutors, and I worked for hours with my daughter teaching her in the way she could best learn. Other parents skipped these "behavioral management techniques" and went straight to a medication regimen, but we persevered without it.
When my daughter began middle school, we realized behavioral management wasn't enough. "We're going to have her evaluated for medication," my husband Manny and I informed the school's vice-principal. "Good," the vice-principal responded immediately. Still, I wondered and worried. The first doctor we saw was a stuffed-shirt know-it-all who spoke less than 5 words to my daughter and determined that he couldn't help her because her grades were adequate. "See you in six months," he said. Outraged, my husband and I nicknamed him Dr. Grossbutt, and ratted him out to our pediatricians, who had referred us to him.
The second doctor talked to our daughter and to us for a long time before asking why the schools hadn't given my daughter more help sooner. The doctor recommended starting medication without telling the school, so that the teachers could continue to make unbiased evaluations of her school performance. The first dosage didn't have much effect, so we raised it a bit. Then our daughter started noticing things getting easier for her. She mentioned that her grades were improving, and her expectations for herself became higher.
At the next parent-teacher conference, the social studies teacher came up to me and said, "That medication you're giving your daughter is really helping." I launched into a long explanation of why I could neither confirm nor deny that she was on medication, because it was important for the teachers to make an unbiased assessment. The teacher leaned in closer to me, completely ignoring my convoluted disclaimer, and said, "Well, it's really working!" When we received our daughter's report card, her grades in most subjects had gone up by one full letter grade since the first marking period.
I became completely convinced that ADHD existed, and that the medication was no myth either. "Boy, you've really changed your tune!" my sister-in-law commented. "I'm living with it," I answered. Regardless of whether doctors over-diagnose ADD or over-medicate kids as a general matter, I'm convinced that the diagnosis and the medication are helping my daughter. And thank God for that.
Readers: Does anyone in your family have ADHD? What's your strategy for coping with it?
This article originally appeared on Can We Cana and is used with permission.