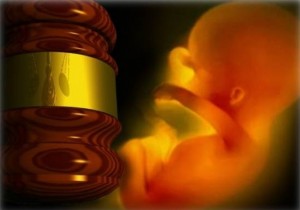 'End this pregnancy and tie her tubes.' That was the stark advice given by a a court-summoned doctor in a possible forced abortion case involving a mentally handicapped woman in Nevada, according to a transcript of a Nov. 1 hearing obtained by LifeSiteNews.
Judge Egan Walker of Nevada's 2nd District Court is holding evidentiary hearings to determine whether to order 32-year-old Elisa Bauer to have an abortion against the wishes of her adoptive parents and legal guardians, Bill and Amy Bauer of Fernley.  Elisa suffers from epilepsy, bipolar disorder and mental impairment as a result of a birthmother who drank heavily while pregnant with her.  She is said to have a mental age of approximately 6 years.  The father of her baby is unknown.
The November 1 hearing featured testimony from two obstetric experts, Dr. Robert Slotnick and Dr. Stacy Mellum, both of Reno.  The two doctors spoke about the risks of pregnancy and childbirth for Elisa, particularly with regard to her epilepsy.  Elisa's condition requires her to take anti-seizure medications that increase the risk of certain birth defects.  The doctors also agreed pregnancy might affect the way Elisa's body processes medication, potentially reducing its effectiveness.
However, the doctors disagreed sharply on the proper course of action for Elisa.
Dr. Slotnick, the obstetric expert called by the court, recommended abortion and sterilization for the mentally impaired young mother, saying that regardless of her parents' wishes to the contrary, the best thing for her would be to "end this pregnancy and tie her tubes."
Dr. Mellum testified on behalf of Elisa's parents, who want to allow her to carry the child to term and place him or her for adoption.  He told the court that the standard medical protocol for a high-risk epileptic pregnancy is careful monitoring and management of medication, not abortion.
"I've managed very many patients with similar type epilepsy," Dr. Mellum said, "and they've done very well with no complications."
The Bauers say they have at least six qualified couples lined up who are willing to adopt Elisa's child.  But Judge Walker has argued that as court-appointed guardians, the Bauers are "agents of the court" and subject to his authority, which means he can overrule their medical decisions.  Bauer family attorney Jason Guinasso challenged that authority in the state Supreme Court last week, but so far, the case has been permitted by the higher court to continue.
Judge Walker assigned another attorney, Karen Sabo, to serve as a guardian ad litem to speak on Elisa's behalf during what the judge admitted was, "for all intents and purposes, a trial."
Ms. Sabo made her position clear from the outset. "We're here because this woman's guardians have attempted to deny her right to choose," Sabo said.  "There's a reason it's called Roe versus Wade."
Guinasso called Sabo's assertion "preposterous."
"[The right to choose] is an umbrella over the guardians as well as Elisa," Guinasso argued, "and this court by intervening pierced that right."
"Those health care decisions are supposed to by statute be made by the guardians," Guinasso said.  He reminded the court that "in 1998 Elisa … was already declared incompetent," and that the "petition specifically says that it was being made so that decisions about her living arrangements could be made and an informed consent could be given toward health care decisions."
According to the transcript, Judge Walker agreed with Guinasso's assessment, saying,  "Sure."
"And so both by the Court's order and by the statute," said Guinasso, "this couple has been given the right and the responsibility to make decisions about all aspects of her health care, including her pregnancy."
The next evidentiary hearing is scheduled for Wednesday, Nov. 14.  Bill and Amy Bauer are expected to testify.
Dr. Slotnick's suggestion in support of abortion for Elisa appears to be a radical departure from the American College of Obstetricians and Gynecologists' (ACOG's) published recommendations, which state that "when a cognitively disabled person becomes pregnant, there should be an investigation to ascertain if there is abuse." (No abuse has been alleged in the Bauer case.)  "If a patient cannot give her own consent for decisions concerning a pregnancy," says the ACOG, "a meeting with her family or caregivers is indicated to discuss all the aspects of the pregnancy."  Abortion is not mentioned anywhere in their recommendations.
With regard to sterilization, the ACOG urges doctors to tread carefully.  "Physicians who perform sterilization [on the mentally disabled]must be aware of widely differing federal, state and local laws and regulations, which have arisen in reaction to a long and unhappy history of sterilization of 'unfit' individuals in the United States and elsewhere," the group wrote in a 2007 paper. "The potential remains for serious abuses and injustices."  ACOG added that "non-voluntary sterilization generally is not ethically acceptable because of the violation of privacy, bodily integrity, and reproductive rights that it may represent."