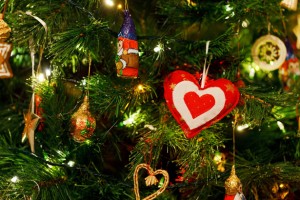 Christmas traditions help a family cope after mother passes away
In 2005 I lost my wife Joanne after her short battle with cancer. Nothing could have prepared me and our nine children for the future that lay before us. Our first Christmas without her was heart-wrenching. I remember decorating the tree, with every ornament that she made or that was special to her bringing tears to my eyes.
It must've been hard for my children to watch me. My oldest was 13 and my youngest was 11 months old at the time. I remember trying to grasp on to the Spirit of Christmas for my children and, at the same time, being swallowed up in my grief. Every happy memory turned sour then happy again. Grief is like ocean waves: coming in and overtaking you, then falling back and giving you relief.
Even this year, our tenth Christmas without her, decorating the tree brought some tears. Time does heal, but the hurt never really goes away. Now with the hurt come tremendous insights that I couldn't have experienced earlier. One of them is how grateful I am for the time we had together and for the beautiful family she gave me. Another is how I have been called by God to be an example for others and to help people who have gone through similar circumstances, such as raising children as a single parent.
We have many special traditions that we've carried on from Joanne, particularly around the holidays. At Christmastime, decorating is a big deal, when everyone helps if they're not busy. We all pull the boxes out of the basement and start unpacking.
The teens usually take out the artificial tree and set it up while I look on with a critical eye. We drink eggnog while decorating, play Christmas music, hang several special ornaments for Mom and try and decorate the way we remember she did. The kids also help with some cooking, the older kids help prepare the gifts and stockings for Christmas morning and my oldest daughter puts together a Christmas village that Joanne used to do.
Our first Christmas after Joanne died, I gave them each a framed picture of them alone with their mom. I made it the last gift that they opened. We had a great emotional cry and today, almost 10 years later, they all have those pictures in their rooms and apartments. We also make cookies every year with the help of an organization called Mommy's Light/Family Lives On Foundation. They help families who have lost a parent carry on traditions that were important to the children. They help us with several traditions throughout the year and are an amazing organization.
We go to the Christmas Eve Children's Mass and then come home and have some kind of Italian dinner like pasta or eggplant parmesan. When the kids go to bed, there are no presents under the tree except ones from the kids to me and grandma. When they wake in the morning, the tree is filled with presents wrapped in red tissue paper. We usually spend Christmas day alone, have a big breakfast, then a big dinner with lots of eating in between. We stay in our pajamas all day or very comfortable clothes.
One thing I've tried very hard to do is keep Joanne's memory alive for them. I talk about her often, her pictures are still around the house, we sometimes watch home videos and I say a special prayer with them every night. I trace the Sign of the Cross on their foreheads and say: "May God bless you, and keep you safe and send his angels and Mommy to watch over you." They will not go to sleep until I do that.
If I'm working late, they insist that I come into their rooms and do it while they are sleeping. And I do. We also pray for her on special occasions like the holidays, her birthday, our wedding anniversary and the anniversary of her death. We have a special altar at home that I had custom-built for her when we first moved. It's a place where we can go and pray for her, be with her and look at pictures of her and just remember her.
Despite our terrible loss, I mostly am grateful for the time I had with her and now have with my children. While she was still here, I was heading in one direction with my career and she was raising the kids. It's a place where many couples are. Now I have very special, unique relationships with my kids because I'm a single dad.
If your family is heading in a hundred different directions it's important to step back and assess where you're heading, and really carve out some time just for you all to be together. Christmas is the perfect time to do that and to enjoy this beautiful season of our Lord.
Reprinted with permission from FathersForGood.org.