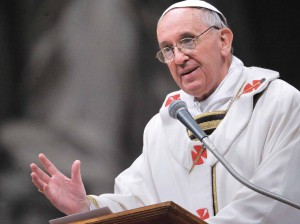 "Be courageous, and go to confession," was the message Pope Francis delivered at his Weekly General Audience on Wednesday, February 19, 2014.  This was the seventh General Audience of the year, part of a cycle of weekly talks dedicated to the Church's Sacraments.
In his straightforward way, Francis called on those present to silently ask themselves when was the last time they went to confession. "I would like to ask you—but do not say it aloud, everyone respond in their heart: when was the last time you confessed yourself?  Everyone think about it.  Has it been two days, two weeks, two years, twenty years, forty years?"  Then the Pope exhorted, "don't lose another day!"
The Pope began his reflection by noting that the first three Sacraments he discussed in the earlier Weekly General Audiences this year—Baptism, Communion and Confirmation—were "the Sacraments of Christian initiation," but confession, said the Pope, is a "Sacrament of Healing."  Even after we have received new life in Jesus, he noted, "we are still subject to temptation, suffering, and death and, because of sin, we may even lose this new life.
For this reason the Lord Jesus has willed that the Church continue His work of salvation" by administering the Sacrament of Reconciliation, which allows fallen sinners to "heal" their relationships with God.  The Pope pointed to the Gospel account of Jesus healing and forgiving a paralyzed man for proof of the "profound link" between "forgiveness and healing," since "the Lord Jesus is revealed at the same time as the physician of soul and body."  (see Mark 2:1-12, Matthew 9:1-8, and Luke 5:17-26.)
Pope Francis, who is often described as having an informal style of persuasion, also illustrated his arguments by engaging in an imaginary debate with someone reluctant to go to confession.  "Someone can say, 'I confess my sins only to God'," said the Pontiff. "Yes, you can say to God, 'forgive me,' and say your sins," he continued, addressing the hypothetical objection.  "But our sins are also against our brothers, against the Church. This is why it is necessary to ask forgiveness of the Church and of our brothers, in the person of the priest," he noted.
The Pope then acknowledged another stumbling block:  "but Father, I am embarrassed!"  The Pope assured anyone having such a reaction that it was normal: "embarrassment is good. It's healthy to have a bit of shame… it does us good, because it makes us more humble."  He even discussed his own experience of confession.
"When someone is in line for confession he feels all these things–even shame–but then, when he finishes confessing, he leaves (feeling) free, great, beautiful, forgiven, clean, happy."  Then he added, "When I go to confession, it's for healing: healing the soul, healing the heart because of something that I did to make it unwell."
Pope Francis closed his catechesis with a positive appeal to offset the negative predispositions the faithful may have, saying that to "celebrate the Sacrament of Reconciliation means to be wrapped up in a warm embrace: this is the embrace of the infinite mercy of the Father."
Pope Francis has made the theological value of Mercy a keystone of his pontificate, and it often translates to messaging that softens what are perceived to be the hard edges of Church dogma.  This was a classic example of his approach: softening the blow, but not withholding the obligation.
The Pope pointed to the parable of the Prodigal Son, wherein the father of a disobedient son not only forgives him but celebrates his return. By the time Francis ended on that upbeat note, he had already delivered this message:  "Forgiveness is not something we can give ourselves. One asks forgiveness, one asks it of another person, and in confession, we ask forgiveness from Jesus."
[Editor's Note:  For a Catholic looking to learn more about a Pope, the Wednesday General Audiences are one of the best tools available.  In these normally short speeches, the Holy Father gives his thoughts on a particular topic.  While not always authoritative, they contain great nuggets of Catholicism, giving practical guidance on how to grow in holiness.  Here at Catholic Lane we will be starting a new series where we examine these Wednesday audiences.  I hope you like them, and let us know how we are doing.  KMT]