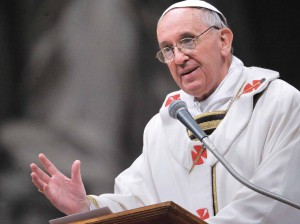 In Pope Francis' latest general audience he reminds us of how the Church is our Mother.  To many people, "mother" can mean many different things, such as love, protector, defender, leader, guide, hope, trust, friend and faith.  Hopefully, some of you can relate to your own mother and think of how she has and continues to care for you. A mother's love runs deep for her children, and it is no different with Mother Church.
Pope Francis says, "In her Motherly Care, the Church strives to show believers the way to go to live a fruitful existence of joy and peace." The church is there to guide each and every one of us on our paths and it offers us so much. We start out with baptism as Pope Francis states, "Whenever a child is baptized, he becomes a son of the church, from that day, he is in the church which cares for him as a caring mother." From that point we are children of the church and will be cared for on this earth, even in the most difficult of times.
Pope Francis goes on to say, "She makes us grow in faith and shows us, with the power of the Word of God, the way of salvation, defending us from evil."  Baptism is just the beginning, though; the church gives us many more things to guide us. The church gives us the sacraments, the gospel, the Eucharist, the saints, prayers, all the members of the religious life, and the list goes on. Pope Francis also says, "We Christians are not orphans, we have a mom, we have a mother, and this is great." It is indeed great. As with our own mothers we go to for advice and counsel because we trust them and they know us better than anyone, this is how we should act with the church, whose main concern is our souls.  We are not orphans, we are not alone we have the best protector there is, something that the powers of hell can never destroy.
Last, but most certainly not least, Pope Francis talks about the Blessed Mother. She is the model of the Mother Church; "The Church indeed, contemplating her hidden sanctity, imitating her charity and faithfully fulfilling the Father's will, by receiving the word of God in faith becomes herself a mother."(Lumen Gentium 64). Just as Mary said yes to the Lord, to receive God, so does the church. Mary did not keep Jesus for herself, she gave Him to all of us, and in return Jesus gave her to us while he hung on the cross (John 19:25-27). The church looks to Mary for guidance, and she is always there protecting, guiding and defending Her Church. Just like a good and loving Mother would.
"Let us entrust ourselves to Mary, then, because she will teach us to have her same maternal spirit towards our brothers and sisters, with the sincere ability to accept, forgive and inspire confidence and hope." –Pope Francis