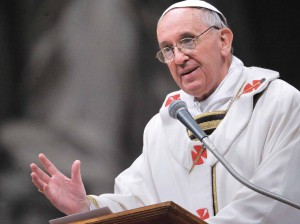 "Do you pray the Rosary every day?," Pope Francis asked the crowd at Castelgandolfo on the Feast of the Assumption last year.  "But I'm not sure you do, he added, teasingly.  "Yes!," the crowd yelled back in unison.
Pope Francis is traveling in South Korea this week, and thus he did not hold his weekly General Audience in St. Peter's.  However, his Assumption Mass at Castelgandolfo last year played like a General Audience.  It was held outdoors, during a weekday, and Francis interacted in close quarters with the crowd, veering off script to engage in dialogue with them.  On this 2014 observation of the Feast, we look back on Francis' timely message.
Marian prayers like the Rosary and her song the Magnificat, said Francis, are potent spiritual weapons for every Christian soul.  "This song is particularly strong in places where the Body of Christ is suffering the passion," Francis said.
The Pope's words about Mary and "the passion" are especially poignant this year, as the Christian world is pained by the persecution of Christians in Iraq.  Fanatical Muslim forces advancing through that country are carrying out a ferocious campaign of persecution of religious minorities—especially, Christians.  Our prayers and solidarity are urgently needed, as well as a diligent political action.
It is natural to think that the Mother of God would be close to those who suffer when you consider how much she suffered.  Consider her poverty, the banishment into Egypt, the pleading for a place to give birth to her Son.  Think of what the young mother must have suffered to see her newborn child exposed to the cold and other indignities; losing him in the temple; seeing him looked down on by the Pharisees.  This is to say nothing of his eventual persecution and death.
It is little wonder that one of her devotional titles is "Queen of Martyrs"—for example, in the Litany of Loretto.  In Castelgandolfo last year, Pope Francis pointed out that "Mary also experienced the martyrdom of the Cross: the martyrdom of her heart, the martyrdom of her soul.  She lived her Son's passion to the depths of her soul.  She was fully united to him in his death, and so she was given the gift of resurrection."
But how does the dogma of the Assumption—which entails the bodily ascent of Mary into Heaven—square with the notion that she accompanies those who suffer?  In a misguided sense, it might seem as though Mary's removal from the earth at the onset of multiple waves of early Christian persecution constitutes some kind of alienation or abandonment.
Contrary to such a misguided reading of the Assumption, Mary becomes a guiding light from on high, a torch that provides a perspective of Transcendence and thus a new impulse and inspiration for the faithful, a sign of hope during times of despair.  After being corporally and spiritually ascended to Paradise, the Blessed Virgin reminds us that the travails of this world are fleeting, and that God's victory over them is eternal.
"Mary is always there, near those communities, our brothers and sisters," Pope Francis said a year before the current crisis.  "She accompanies them, suffers with them, and sings the Magnificat of hope with them."
Regina Martyrum, Ora Pro Nobis.