Gifts of the Visitation: Nine Spiritual Encounters with Mary and Elizabeth
(Ave Maria Press, 2015) is a story of grace, conversion and surrender. Denise Bossert beckons us to go deeper than ever before into the world of Our Blessed Mother and of St. Elizabeth as they joyously await the birth of our Lord and of St. John the Baptist. Explore nine of the most intimate gifts that were given to Mary and Elizabeth throughout the Visitation, and hear a personal account of how having an open heart to receiving these gifts resulted in the author's complete conversion and renewal.
God works in mysterious ways. After the passing of her father, a Wesleyan minister, Denise was grief-stricken. From her first encounters with the saints, as she searches for answers to her suffering, to her courageous leap of faith as she begins her initiation into the Church, Denise shares how the Lord used her trials and perceived obstacles to create the greatest gifts. She reveals how instead of being the intimidating ordeal many might imagine it to be, the annulment process of her previous marriage was "one of the most healing processes of my life." Seemingly fruitless efforts toward her husband's conversion resulted in her "compulsion to write," as Denise could not adequately share her spiritual growth in the faith with him for years. We see her perseverance pay off as ultimately her family is joyfully united in the Catholic Church.
It's a story that helps us understand that our own lives are intermingled with the stories of the Gospels. Bossert shows how total giving of one's self to Christ is possible, and not just for Mary and Elizabeth but for you and me today.  Denise relates first-hand the amazing results and many spiritual benefits of handing over one's life to Christ and to the Church with trust and submission.
Gracefully interwoven are the most powerful incidents of grace in a woman's life, coupled with countless metaphors providing insight into the events of the Virgin Mary's Visitation. During her pilgrimage to the Holy Land, Bossert describes walking the Marian road, both spiritually and geographically.  A world of wisdom unfolds as she shows the reader ways to imitate these holy women of the Gospels and how to be Christ-bearers to the world.
We search through many facets of following Mary's total surrender to the Lord's will. The mother of Our Lord let go of her own plans and ideas and let God lead, regardless of how difficult and overwhelming his requests might have seemed at the time.
Bossert expands on Elizabeth's significance as a role model by exploring the humility and selfless love that was required of Elizabeth when she welcomed Mary into her home. Amidst the trials of her own great calling, Elizabeth was able to shift her focus to the joy of glorifying Christ in Mary. Our author encourages us to do the same.
As this is a conversion story, Bossert's remarkable journey with Christ to the Catholic Church will provide a reassuring account for anyone struggling with misgivings about Catholic doctrines, most particularly for Protestants questioning the role that Our Blessed Mother plays in our spiritual lives.
Bossert's initial reservations about Mary's Immaculate Conception leads to the eventual "double portion" where she develops an extraordinary devotion to Our Lady, which in turn deepens her relationship with Jesus. She remarks, "All Marian devotion comes down to this: Mary magnifies Christ."
Gifts Of The Visitation by Denise Bossert takes a close look at the nine gifts Mary and Elizabeth received while they were living together, awaiting the birth of their sons. The nine are spontaneity, courage, joy, readiness, humility, a spirit of adventure, hospitality, wonder and awe, and a spirit of thanksgiving.
The reader is invited to share in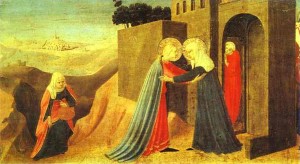 these gifts as the author provides reflections and prayers at the end of every chapter. A novena is also available to deepen the experience as we discover these nine gifts from an author who has received them in her own life.