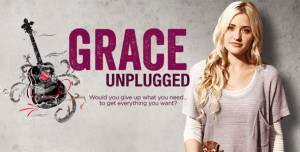 Good versus good hardly seems like a movie plot, but in Grace Unplugged  Divine good versus worldly goods is pitted against one another. At the heart of the conflict is the pull of a Father's love and concern for his 18-year-old daughter and her push to get out from under his shadow and make it on her own.
In Grace Unplugged the stakes are God versus Hollywood.  The message is not that God doesn't live there, just that, well, he's not always an invited guest on the way to stardom.  And when he is a guest in the hearts of those who love him, his friendship will sometimes conflict with worldly opportunities.
A Prodigal Child
Grace Unplugged tells an old story– a prodigal child and her parents who fret for her soul.  Everyone understands this scenario either on a personal level or knows someone in that situation. Oftentimes, Catholic parents with straying children, look to the example  St. Monica who prayed for the salvation of her son, St. Augustine.  He had pushed God out of the way for the world. Brilliant and likable, he was a star of sorts in his Fourth Century world. For years Monica prayed, fasted, and cried silently for him.
Grace Unplugged is the telling of such a story that originally began in the Garden of Eden with God's first two children, Adam and Eve, who went their own way. So we parents understand the story. And we fret. And we pray.
Synopsis
For Grace Trey,  (AJ Michalka, former Disney Star and half the singing duo of 78 Violet) talented, beautiful, and grabbing for stardom, she needs to find her place in the world and decide where God fits in, if anywhere.   Her Father, Johnny Trey, (James Denton of Desperate Housewives) already decided that for himself many years ago.  He was a one-hit wonder, not because he did not have the talent to go the distance, but because he woke up to Jesus Christ and traded up from a life of waking up hung-over all the time.
Johnny taught his daughter about God and how to play the guitar, and she became part of his worship band in the church he works as a music pastor.  Johnny and his wife Michelle, (Shawnee Smith, The Secret Life of the American Teenager, Becker) made all the right moves. Their love and mutual respect for one another and Christian values produced the desired result: a loving, talented, Christian daughter.  But the talent Johnny once nurtured in Grace takes on a life of it's own. Grace wants to break out of her father's cage and fly on her own.
When Johnny's old agent Frank "Mossy" Mostin (Kevin Pollak, The Usual Suspects, A Few Good Men) tracks Johnny down and offers him a second chance at stardom, both Mossy and Grace are incredulous when he turns it down.  Secretly, on her own, Grace sends Mossy an audio performance singing her Dad's old hit. And thus, a new star is born.
The characters themselves are not villains but their shallowness is. Mossy is not unlikeable, but he is missing spiritual moorings, as are most of those working alongside him. One exception is Quentin, (Michael Welch) an intern at the record company who befriends Grace, but encourages her to take inventory of her choices.
The conflicts are realistic, and the acting is engaging. Grace's rebellion and strong will are tempered enough so as not to diminish her likeability. Add in her powerful voice and rock-star guitar playing, and the story is both believable and entertaining. The bonus is that it's wrapped in a Christian message.
Grace Unplugged has earned recognition as one of the Christian Film Database's Top Ten Christian Films of the Year list and one of Movieguide's Top Ten best movies of the year. It has just been released on Digital HD and Video on Demand will be released on Blu-ray Combo Pack and DVD February 11,
Grace Unplugged runs 1 hour 42 minutes and is rated PG for thematic elements and brief teen drinking.