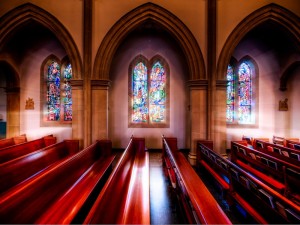 Without a doubt, you know someone who is ready and just needs a little nudge. Chances are, you sit by him almost every week at Mass. Chances are, you work with her, and your conversations have turned to the topic of faith now and then. Maybe, you even kiss this person goodnight and call the same four walls home.
There is a strong possibility that you know someone who is not yet Catholic, but someone who is curious about the Catholic Church. Moreover, you may be the only link between Mother Church and that person's full communion with Our Lord.
Why is it so easy for us to invite a friend shopping, encourage a co-worker to try a new coffee shop or persuade our spouse to get a membership at the local gym, but the idea of inviting that same person to look into RCIA classes makes us break out in a cold sweat?
One day, we will all stand before Our Lord, and it will be a day of reckoning. Okay, here are the ones I put in your path, Jesus will say as he shows us an instant replay of our lives. Now, let's take a look at what you did to help them come home. How often did you pray for them? How often did you bring them to Me as your special intention for Holy Communion? How well did you live out the life of faith in front of their eyes? Did you ever invite them to explore the faith?
Our beloved Church has made it so easy for us to help the seekers discover the joy of reconciliation. Our beautiful Church has made it possible for us to just point a finger in the right direction. We don't have to have all the answers. We don't even have to be a stellar Catholic, and we certainly don't have to be a saint to help a lost lamb back into the fold. We have only to love Our Lord and Savior Jesus Christ and the Church He founded upon St. Peter. We have only to cling to this firm foundation and say, "There she is, my friend. There's the fullness of the faith. Mother Church. Home. Complete Truth. Peace and joy. I'll walk with you every mile of the journey. I'll hold your hand. I'll find the answers when you have questions. And I'll pray for you. Man, oh man, will I pray for you."
There is an old saying that most of us learned when we were honing our typing skills. "Now is the time for all good men to come to the aid of their country." I have no idea where the line originated, but it keeps coming to me as I think about this time of year. Now is the time for you to speak up. Now is the time when most RCIA classes are forming. Now is the time for you to be an instrument of peace, unity and reconciliation. Now is the time for all good men (and women) to come to the aid of the one God has placed on your heart right now.
All it takes is one finger, as long as it is pointed in the right direction. Don't know where to begin? Well, the next time grace opens a door for you to bring it up, try saying this: "Are you interested in exploring the Catholic Church and what she really teaches? Well, there is a class specifically designed for non-Catholics who are a bit curious about the Church. I'd love to be your sponsor. I'll even make the call if you'd like."
Does the idea of evangelizing scare you a bit? Well, then get on your knees and ask for sufficient grace and enough love to share the Gospel of Jesus Christ. And remember, now is the time .