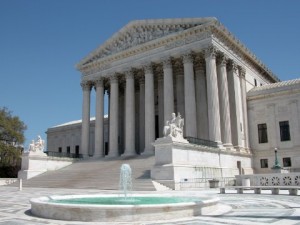 The Thomas More Law Center (TMLC), a public interest law firm based in Ann Arbor, MI, late Tuesday, filed a Petition for Writ of Certiorari with the Supreme Court asking for review of the HHS Mandate Challenge filed by the Law Center on behalf of Michael Potter and his natural food company, Eden Foods.
Erin Mersino, the Law Center's lead attorney handling the case, warns "The mandate is poisonous to religious freedom.  The mandate, created by Kathleen Sebelius, an unelected official not answerable to the public, forces business owners to violate their religious faith or pay exorbitant fines.  For Eden Foods, those fines total in excess of $4 million dollars per year.  Either choice is unacceptable.  We are hopeful the Supreme Court will act expeditiously to right this wrong."
In late October, the Sixth Circuit Court of Appeals denied Potter's request for a preliminary injunction against the Mandate which requires employers to provide health insurance for their employees which covers 100% of the cost of contraception and abortifacients, as well as related education or pay draconian fines which, in the case of Eden Foods, would amount to over $4.5 million dollars.
The petition specifically asks the court to review the lower court's decision concerning whether the choice forced on religious employers by the HHS Mandate between subjecting to fines for providing health insurance pursuant to their religious beliefs or violating the tenets of their religious beliefs violates the Religious Freedom Restoration Act and the First Amendment.
Prior to the promulgation of the HHS Mandate, the health insurance offered to employees of Eden Foods was specifically designed to exclude abortifacient drugs and contraceptives in accordance with Potter's deeply held Catholic beliefs including that "any action which either before, at the moment of, or after sexual intercourse, is specifically intended to prevent procreation, whether as an end or means" – specifically contraception and abortifacients is wrong.
However, in March of 2013, without Potter's consent or authorization, Eden Foods' insurance carrier added coverage for abortifacient and contraceptive drugs as prescribed by the HHS Mandate. With no available options for providing health insurance to Eden Foods employees that does not cover contraception and abortifacients, Potter, with TMLC, filed a lawsuit challenging the HHS Mandate.