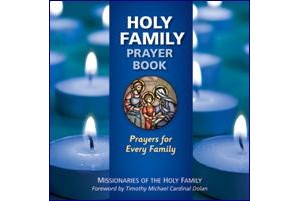 What is one activity that every family should do together daily?  No matter how functional or dysfunctional a family is, this activity will make things better. Answer:  Pray together.
Holy Family Prayer Book, Prayers for Every Family by the Missionaries of the Holy Family is a simple yet practical book.  Rather than overwhelming one with an encyclopedia of prayers beyond what most families would ever get through together, this purse-sized book is rich in prayer but doable in length. As missionaries devoted to family holiness, they really do understand the complexity of family life.
Ideally, family prayer starts when the kids are just babies so that they never remember a time when they did not pray with their family. Yet, it's never too late to start. I know that some families will think it's too late for them. Bad starts and worldly interference can disrupt family peace and holiness. There is also sometimes the problem of an uncooperative spouse.  Then, what is a parent to do?  Scripture tells us to pray and to have faith, so whether praying alone for our family or praying with our family, God will hear and answer us.
"Ask, and it will be given to you seek, and you will find; knock, and it will be opened to you. (Mat 7:7).
"And whatever you ask in prayer, you will receive, if you have faith." (Mat 21:22). 
Therefore I tell you, whatever you ask in prayer, believe that you have received it, and it will be yours. (Mark 11:24).
Every family is busy, yet no Christian family should excuse themselves from prayer. In Pope Benedict XVI's Sept. 12 general audience address, he said prayers 'strengthen our daily commitment to goodness" and that, "there is no such thing as wasted prayer."
This is why, as Christians, "we can never be pessimists." According to him, prayer "educates us to become lights of goodness, spreading hope and indicating that the victory is God's."
Missionaries of the Holy Family (MSF) compiled the book as part of their mission to family prayer. They are a worldwide Roman Catholic Congregation of over 900 priests and brothers with a focus on caring for the needs of the Christian Family. They also promote vocations and serve people both in distant lands and those distant from God.  The persons of the Holy Family, Jesus, Mary and Joseph are credited with being their source of strength.  They were founded in Holland in 1895, by father John Berthier under the direction of Pope Leo XIII. The MSF website offers inspiration and education and spiritual support.  People are also invited to join the Friends of the Missionaries of the Holy Family Prayer Association to pray for the renewal of the family.
The Holy Family Prayer book begins fittingly with the "Consecration to the Holy Family" prayer. Then, there is a "Holy Family Prayer", "Litany of the Holy Family" and a "Novena to the Holy Family".  It is simple enough to add one of these prayers each night or to add them to your already established routine.  Here is an excerpt: "Holy Family of Nazareth, make our family one with you. Help us to be instruments of peace. Grant that love, strengthened by grace, may prove mightier than all the weaknesses and trial through which our families sometimes pass…"
There are prayers relevant to family life and routine such as a morning offering, vocations, and a prayer for renewal of family life. Traditional prayers like the rosary and the Stations of the Cross are presented in a form easy enough for even young children to follow. At the end are prayers to the saints whose lives are particularly relevant to families.
Families are a natural unit for calling Jesus into their midst, "For where two or three have gathered together in My name, I am there in their midst." (Mat 18:20). Families are also a natural battleground for time and attention with so much to juggle. But in the spiritual battle for souls, we seek victory for our soldiers in Christ. In addition to the sacraments, prayer is our best weapon.