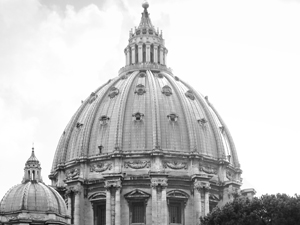 Every so often the Holy See will update its web site to reflect new documents or to make available old documents to the public.  Sometimes, the updates are so subtle and not made to fanfare that the public can mistake an update as seemingly small and insignificant. 
Today is not one of those days.
The Holy See's web site has a separate page called the "Archives."  Within the past week or so, the Holy See added a new feature to the Archives: the Compendium of the Social Doctrine of the Church.
Previously available via the web page of the Pontifical Council for Justice and Peace, the Compendium provides an outline of the Church's social doctrine.  It is a handy reference tool that takes many of the documents of the Church and combines them into one volume.
The Compendium's placement on the Archives page is significant.  It places the document in a more prominent location of the Holy See's web site, making it more accessible to the average Internet user.
In the midst of an American Presidential election year, one can only wonder at the timing of this change.
The Archives page itself makes available the Bible, the Catechism, the 1983 Code of Canon Law, the Vatican II documents, various books, and information on the Jubilee Year 2000. 
The last update to the Archives page came within the past two years with the addition of the Acta Apostolicae Sedis—the official journal of the Holy See.  According to Fr. John Zuhlsdorf, this addition is at least in part due to the efforts of a one man who scanned the entire journal collection into PDF files.