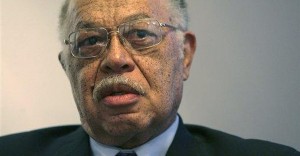 Kermit Gosnell, the late-term abortionist charged with eight counts of murder for allegedly snipping the spinal cords of newborns and overdosing one patient at his squalid Philadelphia abortion facility, has rejected a plea bargain agreement that would have spared him the death penalty if convicted.
Gosnell was brought to court on Thursday from a jail cell where he has been held since his arrest in January, 2011, to engage in plea negotiations that failed.
The case is now headed for trial, which is expected to last 6-8 weeks. Eight out of nine of Gosnell's co-defendants, who have been charged with a variety of crimes, have pled guilty. Only Eileen O'Neal, a former medical student with a history of employment at shoddy abortion clinics, will be tried with Gosnell. She is charged with practicing medicine without a license and will not face murder charges.
Jury selection began Monday and is expected to last a week and a half. Three jurors were selected on Monday, but a total of twelve jurors and 4-6 alternates are needed. This case involves three aspects that will make jury selection a difficult process including a possible death penalty, the hot button issue of abortion, and a lengthy duration of the trial. Already dozens of prospective jurors have been dismissed.
Opening arguments are expected to begin on March 14.
Horrific details of what the Grand Jury called a "house of horrors" came to light after authorities raided Gosnell's clinic in 2010 on suspicion that he was operating an illegal drug operation. Authorities found a bloody mess and unsanitary conditions along with the remains of late-term, viable babies that had deep gashes in the backs of their necks. A scathing grand jury report release almost a year later detailed almost unspeakable conditions and practices along with harsh criticism of a political climate that could see this abuse and look the other way.
"We are watching this case closely and expect to hear more about the shoddy nature of Gosnell's abortion business and the dangers of similar operations around the country," said Cheryl Sullenger, Senior Policy Advisor for Operation Rescue. "We know Gosnell is not alone and we shudder to think of the horrors women are subjected to each day at abortion clinics that just haven't been caught yet."