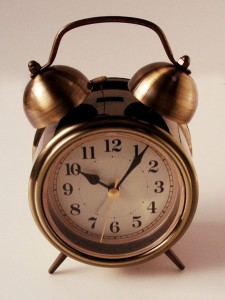 "Do not worry about tomorrow; tomorrow will take care of itself. Sufficient for a day is its own evil" (Matthew 6:34).
We have all heard the adage, "One day at a time".  As we noted in the last article, Jesus himself gives us this rule of life. In the middle of the Sermon on the Mount (the sermon that tells us how we are to live our lives as one of his disciples) this is what he tells us.
Why are we so upset about things? In my case, I found it was because I was trusting me rather than God. I grew up in a Jewish neighborhood in St. Paul, Minnesota. When a Jewish person dies, they have what is called a Shiva, or time of mourning. In strict Jewish Tradition, it lasts for 30 days. A wonderful tradition because the family comes to be with those who are grieving. They talk, they pray, and they eat. One of the things they talk about in their prayer rite is to take life one day at a time.
This concept is so comforting emotionally, it has been adapted by many of the twelve step programs.  I have adapted it to my lifestyle. Here are the things I remind myself regularly.  I encourage you to use this list or adapt it to create your own.
 1. Just for Today  I will try to live through this day only, not tackling all of my problems at once. I  can do something at this moment that would discourage me if I had to continue it for a lifetime.
2.  Just for Today  I will try to be happy, realizing my happiness does not depend on what others do or say or what happens around me. Happiness is a result of being at peace with myself.
3.  Just for Today  I will try to adjust myself to what is and not try to adjust everything to my own desires. I will accept my family, my friends, my business, my environment and my circumstances as they are.
4.  Just for Today  I will take care of all aspects of my health. I will exercise my body; I will exercise my mind; I will read something spiritual.
5.  Just for Today  I will do somebody a good turn and not get found out. If anyone knows of it, it will not count. I will do at least one thing I don't want to do, and I will perform some small act of  love for my neighbor.
6. Just for Today  I will try to go out of my way to be kind to someone I meet. I will be considerate, talk calmly, and look as good as I can. I will not engage in unnecessary criticism or finding fault, nor try to improve or regulate anybody except myself.
7. Just for Today  I will pray for a knowledge of God's will for my life and for the courage to carry that out. I will have a program. I may not follow it exactly, but I will have it. I will save myself from two pests, hurry and indecision.
8.  Just for Today  I will stop saying, "If I had time…" I never will find time for anything. If I want time, I must take it. I will pray for a knowledge of God's will about my use of time and the courage to carry that out.
9. Just for Today  I will have a quiet time of meditation wherein I shall think of Jesus Christ, of myself, and my neighbor.  I shall relax and seek truth. I will say yes to God's Love.
10. Just for Today  I shall be unafraid. Particularly, I shall be unafraid to be happy, to enjoy what is good, what is beautiful, and what is lovely in life. I will try to be more and do less.
11. Just for Today  I will not compare myself with others. I will accept myself and live to the best of my ability.
12.  Just for Today  I choose to believe that I can live this one day.
Four Words that will set you free:          ACCEPTANCE   AWARNESS    ATTITUDE     ACTION
(Note:  Adapted from "The Yellow Pamphlet" of Emotions Anonymous. For further information about EA and for a list of meetings in your area look in your phone book or write Emotions Anonymous, International Service Center, PO Box 4245 St. Paul, MN 55104 or Call  (651) 647-9712 or Fax (651) 647-1593)
I probably pray these 12 reminders three times a week. They calm me down, help me to make rational decisions in all areas of life, including financial decisions, and bring me closer to God. As you read them, you will find them very Scriptural in principle.
The four words help me greatly:
ACCEPTANCE: I accept my life the way it is, not how I want it to be.
AWARENESS: I try to look for the good and see God's presence in my circumstances. 
ATTITUDE: I trust God will work all things for my good, even though I may not think they are good at the moment.
ACTION:  I step forward in faith, with another four simple words: Thy will be done!"
(© 2011 Stu Walker)