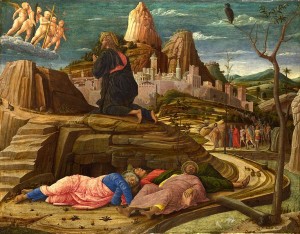 "The Son of God who became Son of the Virgin also learned to pray according to his human heart. He learns the formulas of prayer from his mother … He learns to pray in the words and rhythms of the prayer of his people." (CCC 2599)
Until five years ago, when I began an intense study of Jesus' earthly prayer, I had never heard of the Eighteen Benedictions.  What I quickly discovered was how they are a beautiful tapestry of blessings and petitions that the Jews had been praying three times a day for at least a century before the birth of Christ. Their centrality in Jewish prayer is witnessed to by their Hebrew name, Tephilla, or simply "the prayer." (You will also hear them referred to as Amidah, "standing," since they are prayed while standing; Jesus likely refers to this in  Mk 11:25.)  These benedictions both praise God for his goodness and ask for his continued blessings and the fulfillment of his promises.  With their importance in the prayer life of Jesus and his Jewish apostles, why didn't their use continue among Christians? I believe the answer is two-fold.
First, Scripture assures us that Jesus entered history in the "fullness of time" (Gal.4:4).  He entered at precisely the right moment of history for these blessings and petitions to form an integral part of his daily prayer with Mary and Joseph.  And Jesus' own death and resurrection – and all that means for humanity – were the answer to many of the Eighteen Benedictions: "Blessed be the Lord who forgives our sins, … who raises the dead, … restore the kingdom of David, … allow us to worship in your sanctuary."
Second, Jesus commanded us to pray the Our Father.  Because it comes from God the Son, it is literally the perfect prayer.  Its seven petitions encapsulate all others, the Eighteen Benedictions included; and when prayed slowly, with the proper awe and love expressed in these words, "Our Father, who art in heaven, hallowed be thy name," can encapsulate all blessing and thanksgiving as well. The early Church recognized this, and so we find its first catechism, the Didache (70-120 A.D.), instructing believers to pray the Our Father three times a day (8:1). The 1994 Catechism of the Catholic Church affirms that this was done "in place of the 'Eighteen Benedictions' customary in Jewish piety" (CCC 2767).
In the early days of my conversion I neglected the Our Father. As a "rote prayer" that I learned in childhood and often rattled off with my parochial school classmates, in my heart-of-hearts, I didn't believe it could capture the "closeness" and "spontaneity" Jesus wanted me to enjoy with the Father! (Ridiculous, right? Ah, but far too common.) Like many others, I had misunderstood Jesus' words in Mt 6:7, "when you are praying, do not use meaningless repetition as the Gentiles do, for they suppose that they will be heard for their many words." Jesus, a faithful Jew, was far from opposed to praying "set" prayers. (While hanging upon the Cross he prayed the same Psalms he had since childhood!)  Rather, Jesus was warning his Jewish audience against the errors found in pagan prayer – believing that God would be moved to grant their requests by the sheer amount of verbiage.
God wants prayer to be an expression of our hearts; and as the Holy Spirit brought me to recognize, nothing expresses them better than the Our Father.  St. Paul went so far as to teach that it is the Holy Spirit who puts this prayer on our lips: "you have received the Spirit of adoption as sons, by which we cry out 'Abba! Father!'" (Rom 8:15).
So why don't we Christians pray the Eighteen Benedictions? Ultimately, it is for the same reason we no longer offer the animal sacrifices prescribed in the Law of Moses: Jesus, and the prayer he taught us, is the fulfillment of the Law and the Prophets (Mt. 5:17; Heb 8:13), as well as the Eighteen Benedictions.
This article was adapted from Shane Kapler's book, Through, With, and In Him: The Prayer Life of Jesus and How to Make It Our Own (Angelico Press, 2014).