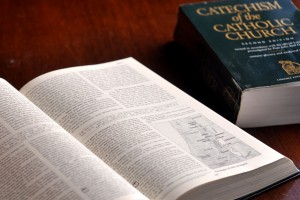 We do not really want a religion that is right where we are right. We want a religion that is right where we are wrong. We do not want, as the newspapers say, a church that will move with the world. We want a church that will move the world. –G.K. Chesterton

With the start of a new catechetical year catechists throughout the country, whether in parish programs or Catholic schools, prepare to faithfully impart the Catholic faith to our children. But is this too strong of an assumption regarding what is actually happening in our religious education programs? We need to honestly reflect on this question in order to properly discern what defines sound catechetical instruction and faithful Catholic teaching.
G.K. Chesterton reminds us that the premise of sound religion is not to affirm our misunderstandings but, on the contrary, to correct them. In other words, we not only want religion to accept us where we are at, but primarily we want religion to move us where we are supposed to be. Hence Christ the Divine teacher calls us to not only be hearers but also doers of the Word (Lk 6:46-47).
Do you agree?
This obvious point appears not so obvious amongst some catechists in the field. One of my primary tasks as Director of Catechist Formation is training catechists. There is never a dull moment walking into a classroom of people who have all the right intentions but not all the right faculties to hand on the faith. The schematic of every class involves an explanation of the Kerygma, i.e. the Gospel message of Jesus Christ (Salvation History), to wet the prospective catechist's appetite on how to engage students and in turn instruct them; in other words: evangelize and then catechize. Once the session nears its end and everyone appears to be inspired and ready to tackle this very important ministry I ask a very important and inevitable question:
"Does everyone here agree with every teaching of the Catholic Church?"
I clarify this question by mentioning that I am not referring whether they like or dislike their pastor's homilies or the choice of colors used to paint the new narthex or the way the parish asks for money. It comes down to Church teaching and whether you honestly believe in it or not.
Out of the over 60 catechists present that evening at least half raised their hands openly saying they had issues with Church teaching. When I mentioned specific Church teaching on contraception, homosexuality, cohabitation etc. their faces were  priceless!
Is it Ignorance, Misunderstanding or Defiance?
The response I received should not surprise anyone. Though some may say this is to be expected or the number should have been greater or lower, we need to address where this supposed ignorance, misunderstanding or defiance comes from.
Catechists are co-operators with Christ the Teacher. Their responsibility lies in creating a true Catholic environment for all.  This Catholic ethos rests on Christ and His constant revelation intimately found in Sacred Scripture and the Catechism of the Catholic Church. One of the greatest challenges is helping an individual understand what his role is in life with respect to Christ. This is even more important when a particular person desires to teach the faith, but whose faith?
Guadium Et Spes specifically lays out what our responsibility is to be in accord with the Church:
The root reason for human dignity lies in man's call to communion with God. From the very circumstance of his origin man is already invited to converse with God. For man would not exist were he not created by Gods love and constantly preserved by it; and he cannot live fully according to truth unless he freely acknowledges that love and devotes himself to His Creator. (19)
When an individual is outside of communion with God on any level then the proclivity of seeking or even inventing a new doctrine becomes very tempting. Our catechesis becomes skewed and is directed toward the self rather than Christ. Catechesis is an education in the faith for children, young people, and adults which includes especially the teaching of Christian Doctrine imparted, generally speaking, in an organic and systematic way, with a view to imitating the hearers into the fullness of Christian life. (Catechesis In Our Time, 18)  
Jesus echoes the integrity of the Kerygma (Gospel message) faithfully where he reminds everyone that after the greatest commandment to love one another as he has loved us is to understand "all that I have heard from my Father I have made known to you" (Jn 15:15). What we have here is faithful transmission of the Gospel. This point was somewhat missed by the catechists I posed the question to. Jesus reminds us that:
My teaching is not from myself; it comes from the one who sent me. (Jn 7:16).
After an initial awkward "I can't believe he just asked us that question" look from those who raised their hands, I kindly but firmly laid out some of the negatives ramifications to this position on the children they will teach.
Your personal views against Church teaching will inevitably seep into the classroom.
The student will not receive the fullness of the Gospel and instead will receive a "catechesis of me" instead of a catechesis centered on Christ.
You may end up chastising a student who disagrees with you on Church teaching even though the student may be right and you may be wrong.
Your language will go from the "Church teaches" to " I believe the Church needs to . . ."
I can go on with this list, but you get the point. When these scenarios were presented many who raised their hands did not deny that this may happen. Those who did not raise their hands asked them "Why teach the faith?" These scenarios resonate with St. Paul's exhortation to Timothy "to guard what has been entrusted to you" (2 Tim 3:16).
The General Directory for Catechesis answers the question of teaching the faith this way:
The first and primary role of the Catechist is to be a primary witness of the Catholic faith to students.
That faith must also be put into practice resulting in the catechist being an active model of Christian charity for all to see, especially the student being catechized.
In the act of faith and works, a catechist exemplifies the model of catechesis as a systematic, organic presentation of the faith rooted firmly in the teachings of the Catholic Church and visibly expressed through participation in the sacraments, the commandments, beatitudes, and prayer.
The missionary mandate of Jesus, the supreme evangelist, was to proclaim the kingdom of God.  In proclaiming the Kingdom of His Father, Jesus preached of the joy of the kingdom and the fruits that would be shared in the kingdom. (34)
What Is the Role of the Catechist?
Should we allow the catechists I mentioned who for whatever reason do not agree with everything the Church teaches teach children the Catholic faith? Two possible answers to this question might be: "Absolutely not"; or "not completely". The reason for both possibilities is the need to discern and determine prior to their first catechetical instruction if their position is one of ignorance or misunderstanding (not completely).  If this is the case then these misunderstandings about Church teaching can be clarified and hope reigns. However, if the catechist is adamant against a certain teaching of the Church then the catechist should receive an absolutely not response.
Blessed John Paul II in his Apostolic Exhortation: Catechesis In Our Time outlined some very practical points on catechetical instruction that all Catechists would be wise to follow. They are:
Begin with an initial proclamation of the Gospel or missionary preaching through the kerygma (proclamation) to arouse faith.
Use sound apologetics or an examination of the reasons for why we believe what we believe.
Provide an authentic experience of Christian living
Provide ample opportunities to celebrate the sacraments.
Help the student become integrated onto the ecclesial community.
Be Apostolic and missionary witness." (18).
St. James calls on his fellow brethren to show no partiality as you hold the faith of our Lord Jesus Christ, the Lord of glory . . . for whoever keeps the whole law but fails in one point has become guilty of all of it . . . (2:1, 10)
G.K Chesterton told us that the world needs a religion that will move it not pamper it. If the primacy of teaching the faith is to move the soul towards Christ, then our ministry as catechists should be very clear with no reservations.