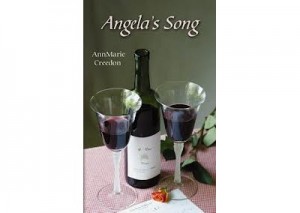 How do you present Theology of the Body in a novel that people will not only like, but want to share and passionately recommend? You couldn't have convinced me that it could be done well until I read the debut novel by AnnMarie Creedon.
Angela's Song is a novel that I should probably categorize as chick lit, but it's also completely Catholic and completely honest. As my best friend commented when I shared it with her, this book takes an honest look at some of the what ifs Catholic women struggle with and reconciles them with both real life and Catholic teaching. It's a wonderful and delightful book that I am looking forward to rereading.
Today, it's a pleasure to share an interview with AnnMarie.
Tell us a little about yourself, AnnMarie.
I'm a mom of five children, ranging in age from 8 to 22.  My oldest has autism.
I've been married to my husband, Joe, for 25 years.  We just took an amazing trip to Rome to celebrate that milestone.
Both Joe and I grew up in New York, on Long Island.  I was born in Brooklyn, however, where I had the privilege of learning to speak.  The accent never goes away.
We are a homeschooling family and most of us are major bookworms.  My kids are very into literature: Tolkein, Chesterton, Dickens, and Lewis are some of their favorites.  Frankly, they're much more well-read than their mother. My two teens also write and aspire to be published one day.  My two littles are bakers.  They are constantly concocting treats for the rest of us.
My oldest is happy and lovable.  He's a great artist as well.  For those who have read Angela's Song, he was the inspiration for the character Freddy.
Where did you get the idea for Angela's Song? What inspired the story?
The idea came in the middle of the night.  I woke up with a scene in my head of a woman confessing to a priest that she had kissed a man and then slapped him.  I wrote that scene the next day and the rest of the book around it.
However, the emotions and the lessons learned by the main character in the book come from trials in my own marriage.  My husband and I had a very secular marriage for a long time and didn't follow Church teaching in many ways.  It really took its toll on us.
Several years ago we realized that we didn't have a marriage, really; we were just two people who happened to have five children together. We began to read Theology of the Body and other books on Church teaching and in that process we fell in love…true love.  This healing was a beautiful and generous gift from God.  Now that we understand our roles as a husband and wife and live Church teaching on a daily basis, we are truly happy, and so are the children.  It's amazing what can happen when you simply live in the way God wants you to!
Being a novelist is hard, but being a Catholic novelist even more so. How do you balance the demands of the rest of your life with the things you need to do to get the word out about your book?
I try to get up early and do all the social media, so it's out of the way for the day.  Late afternoons I sometimes work, between school and starting dinner.  I have to admit, I've stayed up till 4 a.m. on several occasions when writing my novels.
What have you found to be the most challenging aspect of writing and publishing?
Finding the time to write is a major challenge.  The demands of homeschooling and running the household–even with the contributions of my family–are time consuming.  My family is really great about pitching in and helping around the house and my husband is very good at mobilizing the troops to pick up the slack when I go on my writing binges.  But day to day, it usually is near the bottom of the priority list.
What advice would you give other Catholic writers?
Pray to the Holy Spirit for guidance every time you sit down to write.  Writing is a charism to be used to build up the Church.  The talent is not yours, it is a gift given to you by God.  Use it for His glory.
Pray for your readers.  Write about themes that will build up their faith life, not lead them into temptation.
Another bit of advice is to develop a thick skin.  If you are writing from a Catholic perspective, you're going to get backlash from some of the secular readers.  It can be painful at times, but a dose of humility is good for the soul…at least that's what I keep telling myself.
Who do you find most moved by your book and why? Does that surprise you?
I've heard from several men that reading Angela's Song changed their whole perspective on marriage.  One man emailed me while he was away on a business trip.  He had downloaded and read the novel on his downtime.  This gentleman wrote that he'd been married for 30 years and he'd always felt there was something lacking in his relationship with his wife.  He said the novel revealed all of their problems to him and he couldn't wait to get home to fix them.
Another man told my husband that, after he finished the book, he went home and kissed his wife. LOVE that!  That's the Holy Spirit working!
I also find great joy when I read a review from someone who starts out by saying, "I'm not Catholic, but…" and then goes on to say that the book either taught them more about our faith, or they have a new respect for our beliefs, or they were moved by Church teaching.  Wouldn't it be wonderful if the Catholic faith was more understood by our Protestant brothers and sisters?
–
Follow AnnMarie online through her blog, Twitter (@AnnMarieCreedon), Facebook, LinkedIn, Google +, and/or Pinterest.