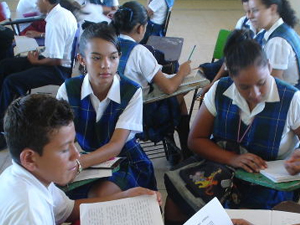 Imagine a Bishop exercising his rightful authority to assure authentic Catholic teaching and practice in Catholic Schools. If this proposition sounds reasonable, then you will find Bishop Vasa of the Diocese of Santa Rosa, CA to be a reasonable man. He had requested/required that all Catholic School teachers to publicly affirm Catholic Church teaching and apply it in daily living. Unfortunately his request really stirred up a hornet's nest amongst those who saw his position as offensive.
What Bishop Vasa was simply asking his Catholic educators to do is guard what has been entrusted to them (1 Tim 6:20). In other words, if you are a Catholic or non-Catholic educator who works in a Catholic School, faithfully hand on what Christ has taught in word and deed or respect what the Catholic Church teaches in the case of the non-Catholic. Apparently this request was seen by many, including Catholic School teachers, as an infringement on their personal lives meaning "the Church has no right to tell me how to live or what I do on my own time." Actually Bishop Vasa does have the right to request that all of his Catholic school teachers adhere to the teachings of the Catholic Church in practice and instruction or, in the case of non-Catholic teachers, respect the teachings of the Church.
Several years ago a when I was Superintendent of Catholic Schools we instituted a rigorous clause in the teacher's contract specifically holding the teacher accountable to adhere and respect Church teaching rooted in Sacred Scripture, Sacred Tradition, the Catechism of the Catholic Church and the Code of Canon Law. Particular emphasis was placed on the moral teachings of the Catholic Church i.e. artificial contraception, abortion, same-sex unions, cohabitation, homosexual activity etc. Unfortunately, many teachers refused to sign their contracts because they felt it was an infringement on their personal lives and views.
Blessed John Paul II stressed that religious education; "must concern itself not only with nourishing and teaching the faith, but also with arousing it increasingly with the help of grace, with opening the heart, with converting and with preparing total adherence to Jesus Christ on the part of those who are still on the threshold of faith" (Catechesis In Our Time, 19).
The Role of the Catholic School Teacher
The missionary activity of the Catholic educator is essentially ecclesial. This means that anyone who desires to work in a Catholic school environment should know from the very beginning that their role is to be in union with the Church, not against it. Regardless of whether the individual teaches religion or biology, the Catholic School is a direct extension of the Church at large. An important responsibility of all Catholic educators is to always "put people not only in touch, but also in communion and intimacy, with Jesus Christ (GDC, 80; CT 5)."  Quite frankly this is a no-brainer.
My teaching is not from myself; it comes from the one who sent me. (Jn 7:16). St. John alludes to the fact that all things come from God. Christ proclaims this as such as the Son of God. If a Catholic educator has a doctrinal issue with the Catholic Church, why in the world would he or she teach in a Catholic school? In a way, this is what Bishop Vasa is asking his teachers. Since he is the Chief catechist of his Diocese, he has the right to ask this question directly.
Is It Really About Catholic Identity?
Yes, it really is about Catholic identity. The purpose of an authentic Catholic education is first and foremost to develop an intimate relationship with Jesus Christ through sound catechesis and effective methods of evangelization in order to assist the student in applying their knowledge of faith in the world. In other words, all Catholic schools are schools of evangelization. This means that every subject area should be rooted in Christ, guiding students on how to apply their faith in every academic discipline they participate in.  In other words, Catholic Schools were built to assist students to engage their world through their Catholic faith and not the other way around.
There should not be an identity crisis when it comes to teaching or authentically witnessing the Catholic faith in a Catholic school. A Catholic school teacher either agrees freely to make a profession of faith if they're Catholic or if they're non-Catholic agree not to present information or themselves in ways that our contrary to the Church or they don't.
If anyone teaches otherwise and does not agree with the sound words of our Lord Jesus Christ and the teaching which accords with godliness, he is puffed up with conceit, he knows nothing; he has a morbid craving for controversy and for disputes about words, which produce envy, dissension, slander, base suspicions, and wrangling among men who are depraved in mind and bereft of the truth imagining that godliness is a means of gain. 1 Tim 6:3-5