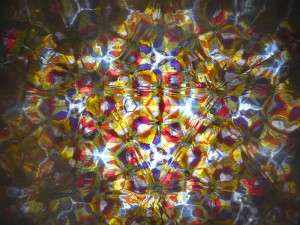 I have been flogging the kaleidoscope metaphor to describe the Republican presidential primary. Given all that is happening, or about to happen, in the pachyderm dust-up, I think it still works. Turning, turning, the GOP battle is making things very interesting in these early days of the endless campaign of 2012. Colorful and chaotic shapes, ever-changing…
The thinning of the herd (to mix metaphors) has begun in Iowa, where Minnesota governor Tim Pawlenty's bid has been derailed by Rep. Michele Bachmann (R-MN) and retiring congressman Ron Paul (R-TX). They, in turn, are in the process of being displaced by Texas governor Rick Perry?. But with former Alaska governor Sarah Palin? itching to get into the race, do all these populist contenders undercut one another and open the way for Mitt Romney to consolidate an establishmentarian, center-right coalition and grab the prize? Clearly, the Bachmann-Paul-Palin candidacies splinter the populist Tea Party vote that Perry would love to capture.
Mitt Romney dodged another bullet with congressman Paul Ryan's really, really, final, final decision not to jump into the fray, which is the right decision for many reasons having nothing to do with the former Massachusetts governor.
I am a huge fan of Ryan's (as my readers well know), but there are not that many articulate, conservative congressmen who can clearly explain to Americans the budget crisis we face, much less the solution embodied in the Ryan plan. We need Paul Ryan right where he is, not out there trying to throw a Hail Mary pass in the big presidential sweepstakes.
Congress is going to be the dominant branch of government in the coming years, given the overriding importance of fiscal and budgetary matters, and we must have legislative craftsmen and women who know the rules of that game. The libertarian disdain for government (at high tide in the Republican Party right now) tends to underrate the importance of having truly skilled and experienced legislators in the House and Senate.
I think a similar analysis requires supporting New Jersey governor Chris Christie's decision, still firm, to stay out of the presidential race. As attractive as he is a political leader, we also need him right there in Trenton, doing what the GOP governors of Wisconsin, Michigan, Ohio, Florida and other states are doing: proving that fiscally responsible governance actually can work in the various state jurisdictions across the country. Their work has just begun. Let them finish the job.
Of course, the best argument for letting Christie be Christie in New Jersey is that he is one of the most entertaining, as well as effective, politicians to ever appear on YouTube. He and Ryan will both have their day on the national stage, but they have more important things to attend to right now. 
With the race coalescing around a populist wing, led by Rick Perry, and an establishment wing, led by Mitt Romney, the time for choosing sides will be upon us very soon. Every Republican, smelling victory in 2012, will be looking at the cut of each candidate's jib in terms of principle and potential electoral success. 
Can I mix metaphors again?
Let the games begin.