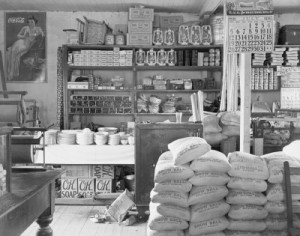 The old grocery store in my neighborhood is closing next month. Boy, does that make me sad.
The family-owned store has been a staple in our community for more than 50 years. Its simple, spartan interior is a snapshot into the past, the way grocery stores were in the '60s and '70s — like the Del Farm grocery store I shopped at with my father every Thursday night.
Unlike today's mega-groceries, there were no lobster tanks or gourmet food displays. The daily specials were written in black marker on torn sheets of white wax paper and taped to the front windows. The tile floors were worn through to the concrete along the paths shoppers commonly followed.
Inside, everything was painted white and illuminated by the bare fluorescent bulbs that hung above. The giant cash registers were mechanical, not electronic, and the cashiers were paid quite handsomely to operate them with speed and accuracy.
The managers and butchers were mostly men — cranky old guys who never smiled and who barked at you if you asked them a question about a sale item or a cut of beef.
The selection of items was limited, compared to the incredible mix of choices mega-groceries offer consumers today. The quality of many of those items was also not nearly as good as today.
Our old grocery is similar to, but much better than, the groceries of that era.
Unlike the mega-stores, where you have to fight traffic and a shortage of parking spots, our modest-sized grocery is convenient. I can run inside, get what I need and be back on the road in minutes.
It has an unmistakable family feel, too. The store packages pre-cut vegetables daily and prices them cheaply — which is greatly appreciated by older customers who find it difficult, even painful, to hold a knife. All you have to do is call one of the members of the family that owns the store. They'll cut up a batch of any vegetables you ask for.
They offer tremendous specials, too. The other day, I saw packages of baby back ribs, which cost $40 at the mega-stores, for only 20 bucks.
And they make hot roasted chicken, side dishes and sandwiches every day for regular lunch and dinner patrons.
I understand that the older family-owned stores are facing increased competition from mega-stores that can purchase and resell goods for considerably less money — which benefits consumers.
Heck, when I was a kid, a typical children's bike sold for $95 — the equivalent of $530 in inflation-adjusted dollars today, which was a lot of money for a middle-class family to spend then.
Today, however, middle-class families can get a typical children's bike at a mega-store for only about 80 bucks — because of lower-cost global manufacturing and economy-of-scale pricing.
Like it or hate it, this is the truth, and I understand all of that.
Still, I don't want to lose our family-owned grocery.
The mega-groceries have had an impact on its business over the years.
Others speculate that the family members could not come to terms with their landlord and so, the business will close.
I am saddened by the impending loss of our fine old-style grocery store. I stopped in there three or four days a week to get fresh ingredients for delicious, healthy meals, but no more.
I know that for all of the consumer benefits made possible by mega-store efficiency, there are some downsides — such as family-owned stores, unable to compete on price, that are put out of business.
And I understand that change is often for the better — but that doesn't mean I have to like it.