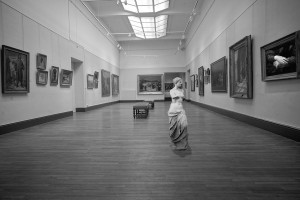 It wasn't until November 2012 that I visited my first art museum. Once before, as a college senior and tourist to Chicago, I attempted to visit the Chicago Art Institute, but the price of admission deterred me as a struggling college student.
I have visited several art museums since that initial visit and each has taught me something new. I believe art museums have valuable lessons to teach us, if we visit and engage the experience.
You Need to Be a Student of History
The first lesson I learned was I need to be a student of history to better appreciate all the exhibits. This history includes the ancient, medieval, and modern time periods. Many artistic pieces express a historical element and a story of a specific time period. In order to fully appreciate the story behind a piece of artwork, one needs to know the historical setting of the piece. This is especially true of religious pieces.
At the Milwaukee Art Museum (which at present I am protesting because of their inclusion of an image of Pope Benedict XVI made from condoms), there are many statues of St. Barbara. If someone does not know who St. Barbara is, they cannot fully understand the significance of why there are statues of her. Similarly, pieces dating back to the Diocletian or some other emperor or ancient civilization cannot be fully appreciate if one does not understand the historical background, that is, the struggles and triumphs of these dynasties.
Another reason why it is good to know history is because sometimes the curator's description is wrong!  One piece of artwork depicting religious brothers working in a winery labeled them as monks. Upon closer inspection, I determined they were not monks, but Franciscan friars, evidenced by their knotted rope cinctures.
People Need Beauty
People in the 21st century are living busy lives, coinciding with our fast-food or drive-thru lifestyles. Also, our society is filled with fabricated beauty. Many of the pictures in magazines or newspapers have been altered, creating a false sense of beauty. As a result, our culture has made us immune to beauty, so when we actually see it, at times we might not even recognize it.
Yet, beauty is all around us, from sunrise to sunsets, to other picturesque scenes. Artists have the uncanny ability to portray beauty. They capture its essence so that others can appreciate beauty. Art museums house the beauty we so need in our world today.
Religious Art is Conducive to Prayer
When I visited the St. Louis Art Museum a while back, they had a special exhibit of the art of Federico Barocci. Upon viewing several of the pieces on loan to the museum, I could not help but enter into prayer as I viewed some of them. I was drawn to the Return on the Flight into Egypt and the Immaculate Conception, in addition to many others.
Simply put, you cannot look at the brilliant religious paintings of Davinci or Rembrandt, and not meditate on the scenes they portray. The artist brings us into the scene, as if we are there. Looking at their artistic renderings is conducive to prayer and meditation.
Art is a Means to Evangelization
Just think about all the people who walk through art museums. They are Catholics, Protestants, Non-denominational believers, Jews, Muslims, etc. Think also about the art characteristic of the Renaissance period. A lot of it is religious in nature.
Many paintings portray Mary, the Mother of God, in a prominent way. Whether one's faith promotes Marian devotion or not, people of all walks of faith appreciate the Blessed Mother. They look upon the one who is tota pulchara-all beautiful; the one who is immaculately conceived. To our Protestant brothers and sisters, art can be a means of evangelization, because it introduces them to the Mother of Jesus and their mother too!
To those who practice no faith, the other paintings representative of the classical periods, portraying Christ's birth, life, death on the cross, and resurrection from the dead, remind people of the reality of Christ and His transcendence overtime!  Christ died in 33 AD (or there about) and in the 1500's, 1600's, the devotion of the people brought them to portray Him in art. To outsiders of Christianity, an art museum can introduce them to the person of Jesus and His life, and hopefully can be the catalyst to their conversion of life.
Conclusion
Art museums have many lessons to teach us. They are places where we learn (or re-learn) our history of Western Civilization. They also are havens of beauty in addition to places of prayer and evangelization. Art museums contain the gems of our historical eras. They are warehouses where the artistic gifts given to certain individuals by God are housed.
But God is the greatest artist of all, who has fashioned the whole world into being, and continues to create in our day and age. In our lives, let us appreciate the beauty that is around us, and enter into the silence of our hearts in quiet meditation.