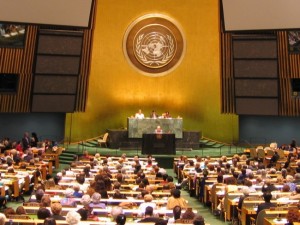 On Human Rights Day, homosexual activists converged on UN headquarters to make the case that "LGBT rights are human rights." But only a few countries within the United Nations agree.
Undersecretary General Jan Eliasson called the promotion of lesbian, gay, bisexual, transgender rights (LGBT) an "unfinished human rights revolution." He lamented the lack of international progress, but said gains had nevertheless been "spectacular."
Panelists called for redefining family in light of the persistence of UN member states not to recognize an equivalence between same-sex couples and the union of a man and a woman. The event held Wednesday was titled "Love is a Family Value"—a word play mocking those who preserve the definition of the family as the result of the union of a man and a woman from the Universal Declaration of Human Rights.
Eliasson accused those who do not embrace the LGBT revolution of "petty bigotry." "Family comes in all shapes and sizes. Ultimately family is about belonging," he said.
"Families are not just biological families," added Theresa Sparks, a trailblazing transsexual activist from San Francisco. He argued that work families, activity families, chosen families, and substitute families, are all a kind of family.
Several panelists spoke of the need for supportive families when individuals identify as LGBT, and how lack of acceptance leads to homelessness and suicide.
Sparks highlighted the tragic situation of elderly individuals who identify as LGBT. Sixty percent live alone. Only 15% have children. But 60% of the children do not speak or live with them.
The moderator Thomas Roberts of MSNBC frequently refocused the conversation on religion, describing his own struggle with faith leading him to attempt suicide. Roberts said LGBT status was a bridge across all cultures and nationalities.
Panelists from Africa and the Caribbean highlighted their challenges. Zambian pastor, Kapya Kaoma, said LGBT rights pose no greater threat to the family than celibacy in the Catholic Church.
"Wouldn't it be cool if everyone could forget to be gay," said Mary Lambert, a singer songwriter who collaborated with Mackelmore on the LGBT pop anthem "Same Love." She compared her fear of being booed on stage because of openly identifying as lesbian with fear of dying.
Fifteen UN member states, calling themselves the "LGBT core group," hosted the event. Despite considerable resources and influence, so far they have failed to gain traction among the wider membership and are limited to hosting side events and press conferences.
Argentina's ambassador took the floor to urge activists to work on all 193 UN member states because the core group could not succeed alone.
Multiple negotiations over the past year, which marks the 20th anniversary of the International Year of the Family, have shut out the notion of "various forms of the family"—a term homosexual activists prefer instead of the definition of family from the Universal Declaration of Human Rights.
While some urged activists to engage in the UN's new development project, Christine Quinn, the first openly gay candidate for New York City mayor, said all the attention of LGBT activists should be directed at Ireland, where a referendum on same-sex "marriage" is expected in May. A loss there would be a "tremendous set back," she said.
Quinn also said wealthy countries should launch a global anti-gay bullying curriculum to be delivered to students on day one of attending university.