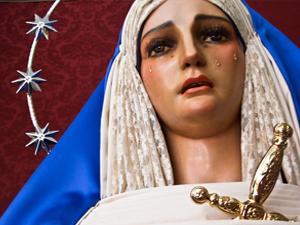 As we celebrate September, a month dedicated to Our Lady of Sorrows, we observe three feasts this month that call us into a more devoted relationship with the Blessed Virgin Mary. This month, we celebrate:
September 8 – The Nativity of the Blessed Virgin Mary
September 12 – The Most Holy Name of Mary
September 15 – Our Lady of Sorrows
I love Our Lady, and I also love technology. I thought I'd share a few "tech tools" — but also some "old fashioned" ones — for you to know, love and share Mary. Enjoy!
Smartphone Apps:
Websites:
Books:
33 Days to Morning Glory – Fr. Michael Gaitley shares Total Consecration with inspiration from St. Louis de Montfort, St. Maximilian Kolbe, Blessed Mother Teresa of Calcutta, Blessed John Paul II
Ways to Share Marian Devotion with others:
Pray the Rosary with and for them – distribute "finger Rosaries"
Create a home shrine to the Blessed Mother
Cultivate a Mary Garden
Display Marian art or statues
Know and be prepared to explain the true Catholic teachings on Mary
As we immerse ourselves in this "month of Mary" – please share your favorite Marian devotions, books, tech tools and resources in the comments below. Our Lady of Sorrows, Pray for Us!