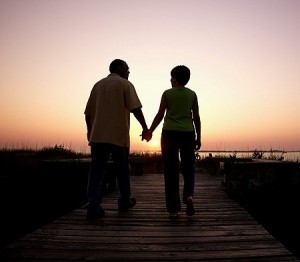 When a man and woman profess their vows and drive off with a "Just Married" banner, will they find enough service stations down the road to fill their relationship tank and fix what may break down?
That's the kind of question some experts are asking about the support—or lack of it—the Church and the Catholic community provide married couples throughout life. Do we focus so much on marriage preparation that we tend to neglect married couples, offering help only in a crisis?
"As much as the Church has done in the area of marriage preparation, we've done virtually nothing in terms of offering ongoing support for couples who have entered into married life," said John S. Grabowski, associate professor and director of Moral Theology/Ethics in the School of Theology and Religious Studies at The Catholic University of America in Washington. "It's kind of like after the wedding we say to couples, 'Have a nice life, and don't forget to bring your kids back to have them baptized.' But that's it."
Timothy O'Donnell, president of Christendom College in Virginia, agreed. "It's not like you do pre-Cana, you get married and then, boy, you're just setting out on the blue ocean of happiness," he said. "There could be some type of follow-up."
Grabowski and O'Donnell are anxious to see how the Church considers the question of ongoing marriage support when the Synod of Bishops meets this October. Pope Francis has called an Extraordinary General Assembly of the Synod to consider "pastoral challenges for the family in the context of evangelization."
The CUA professor points out that the preparatory document for the synod asks what pastoral care the Church provides in supporting couples in formation and couples in crisis situations. Grabowski and his wife, Claire, are members of the Pontifical Council for the Family. Supreme Knight Carl A. Anderson and his wife, Dorian, are the only other member-couple of the council from the United States. O'Donnell serves as a consultor to the council.
Grabowski contends that lifelong support of married couples is important in a culture that is increasingly hostile to marriage, with threats from increasing cohabitation rates, out-of-wedlock births, legal recognition of same-sex unions and a persistently high divorce rate, even among Catholics.
Post-Cana Ministry
A discussion of better ongoing support for marriages also might help prevent many breakups and possibly reduce the rate of divorce among Catholics. Grabowski, who was a consultor to the U.S. bishops conference for the pastoral letter on marriage, and his wife are involved in "post-Cana" ministry to couples in their parish.
"When we were appointed to the Pontifical Council for the Family in 2009, we volunteered in our parish to help with marriage prep, which we'd been doing for 15 years or so," Grabowski said. "The pastor said the parish had a good marriage prep program, but what we really need help with is with people who are already married. He said there are so many people in our parish whose marriages are struggling."
So the couple, along with another couple at St. Ignatius of Loyola in Ijamsville, Md., started a group called Marriage Matters. "We sponsor events like movie nights, retreats, Theology on Tap get-togethers, and wine and cheese socials to try to offer faith formation, fellowship and fun for married couples. It's not formal mentoring per se, but marriage support, marriage follow-up, marriage ministry." A recent event featured Art and Laraine Bennett, who have written books about marriage and family such as The Temperament God Gave Your Spouse.
"We find that people are kind of all over the place in terms of what they need, in terms of the formation they've received," said Grabowski. "Some are very engaged in their faith; some are curious: they haven't gotten a lot of formation."
But one common factor among them is the need for a "community building" network where couples can form friendships, he said. "People resonate with this kind of opportunity to connect with other couples. Some couples are, to use a term from the business world, networking, building up relationships."
The need for such a program is apparent in a lot of Catholic parishes today, which are often large and somewhat impersonal and may lack the sense of community parishes had 150 years ago.
"In a lot of cases in urban and suburban parishes people tend to be disconnected, and parishes tend to be service stations, where they drive up for the Sunday morning fill-up of grace and then drive out again," Grabowski said. "So this kind of ministry is for couples who want support and affirmation for the vocation they're living and don't know quite where to look for that."
Local Level
The fact that Marriage Matters program takes place on the parish level points to a truth that Frank Hannigan has found in his years in marriage ministry: things work best on the local level. Hannigan is family life director in the Archdiocese of Chicago.
"We have marriage ministry guidelines—ten contacts for ten steps that extend into the first year of marriage, workshops, to get them off on the right start," Hannigan said. "What we've found works best for couples married five years, 10 years, 25 years, is what happens on the parish level. We can offer things here on the diocesan level—and we do so on occasion—but what is much more effective is when a parish gets together and says: We're going to do a night on just enriching your marriage, communications skills, whatever it might be. It doesn't always have to be a person standing up in front of a group of married couples sitting there passively. There are different ways of doing workshops."
There are also a number of national and international programs and ministries such as Retrouvaille for troubled marriages. There is a comprehensive list at the website of the U.S. bishops For Your Marriage initiative, both for troubled marriages and marriage enrichment and support.
Chris Codden, director of the Office of Marriage and Family in the Diocese of St. Cloud, Minn., has overseen a program of mentoring couples as they prepare for marriage. She and her husband have trained over 450 couples to be mentoring couples.
That mentoring doesn't stop when the wedding march begins. "In marriage prep, we encourage our mentor couples to meet with the couple four or five times," Codden, past president of the National Association of Catholic Family Life Ministers, explained. "You build a relationship with those couples. My husband and I have mentored probably over 125 couples in 35 years. On their first anniversary we invite them to dinner. No program or anything, just 'How are things going?' and we try to keep those lines of communication open. Let them know the Church really cares for them."
Previous installments of this series:
Part 1: Close to Home
Part 2: Fathers Needed
Part 3: U.S. Bishops Continuing Marriage Strategy
Part 4: Marriage Preparation Programs