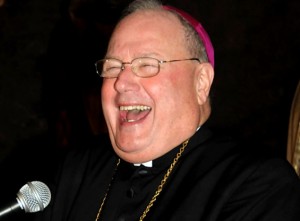 Just to clarify; I was the one in the sweats and athletic shoes. Likely the Cardinal–more precisely Cardinal-designate–was in his clerical shirt, pectoral cross and other black garb, fitting for a man of his office. And, I suppose I didn't really "meet" him, since we already knew each other; I had met Archbishop Timothy M. Dolan during his time as Archbishop of Milwaukee. On this particular day, however, we were chatting over the phone, taping an interview for his radio show on The Catholic Channel called "A Conversation with the Archbishop." He was calling from his New York studio, and I was sitting/standing at my computer workstation in my home office back in Wisconsin, hand clenching the phone receiver in nervous excitement. In a sense, though, we were meeting each other, because this was the first time we've spoken since his appointment to the cardinalate by Pope Benedict XVI on January 6, 2012.
I'm awfully glad the archbishop couldn't see me in my sweats and dingy-not-so-white-anymore Dr. Scholl's walking shoes (a right reserved for Fenelon Clan and any poor devil who shows up unexpectedly at my front door during the day). But I have a feeling that, even if we were face-to-face, Archbishop Dolan would've cared less what I was wearing. In fact, I know it. We did once meet, with me in such attire, as we both were walking on the trails along Lake Michigan. He, too, was dressed inconspicuously, decked in a baseball cap (Brewers, I think), casual clothes and walking shoes. I don't remember exactly what he was wearing because I was so painfully aware of what I was wearing–grungy sweats, faded jacket, and with my hair clipped back in some kind of ridiculous array. I didn't recognize the Archbishop at first. As we passed each other, he offered a pleasant comment, intending to continue on his way. I responded, intending to go on my way, and then stopped in my tracks. That voice! I knew that voice! My excitement won. Scraggly-looking or not, I simply had to greet my Archbishop! So, I did and he treated me as he treats everyone he meets–with unassuming kindness, respect, and appreciation of the entire person before him, regardless of clothing, background, gender, race, or creed. His warmth made me completely forget my appearance, at least for the few minutes during which we spoke. I kicked myself all the way home, swearing I'd never be caught on the trails looking like that again.
As we worked through the interview this past Tuesday, I felt that same kindness, respect, appreciation, and warmth coming to me right through the phone lines. It took only a minute or two for the nervousness to subside (at least I didn't have to worry about what I was wearing), because Archbishop Dolan has a gift for making people feel at home in his heart, whether he's conversing face-to-face or digitally. From priest, to bishop, to archbishop, and now to cardinal, the loving, accepting heart of Timothy M. Dolan has not changed.
I've heard Archbishop Dolan described as a "teddy bear," and I can understand the comparison. Somehow, though, it's just not quite right. Teddy bears are lovable and huggable, to be sure, and so is Archbishop Dolan. But, teddy bears are a rather passive bunch, waiting inertly for you to reach out for them. Cardinal-designate Dolan isn't at all passive; rather, he reaches out for others, with the hominess of his heart, a chaste embrace, and compassionate words. His love for the Church is profound and contagious, and we're blessed to have him as a leader and example. That's something to keep in mind when we meet others wearing sweats and athletic shoes, whether it's them or us.
The segment containing my interview with Cardinal-designate Dolan will air on Thursday, January 12 at Noon EST. Here's the link: http://www.siriusxm.com/thecatholicchannel