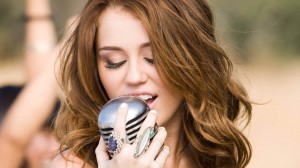 You'd better sit down because this is going to come as quite a shock.
Miley Cyrus and Liam Hemsworth have broken their engagement.
I know. You probably need a minute to collect yourself. Who wouldn't? They've been together since 2010 when they met on the set of a forgettable film called "The Last Song" (would that Miss Cyrus cut such a song, but alas, "Wrecking Ball.")
They announced their engagement in June 2012, when Miss Cyrus was just 19 years old and Mr. Hemsworth only 22. They spent most of the past year apart, though they shared tweets until about a week ago, when Miss Cyrus "unfollowed" her intended.
So I guess despite the strong foundation they laid for a truly committed, lifelong marriage, the former Disney star and her "Hunger Games" honey won't make it to the altar.
Rumors are flying. Miss Cyrus' publicity camp is doing its level best to imply that she initiated the breakup because Mr. Hemsworth has been "less than faithful." (This would be known as "unfaithful," unless, of course, you can't prove anything. "Less than faithful" is apparently just flirting.)
Gossip reporters in Mr. Hemsworth's camp are stating that he broke off the engagement after the "last straw," that being Miss Cyrus' infamous "twerking" fiasco on the "MTV Music Video Awards" last month that "sources" say left the "Hunger Games" actor "mortified and embarrassed."
Of course, it could be that the "MTV Music Video Awards" show wasn't the last straw. Perhaps it was the release last week of Miss Cyrus' music video for her single "Wrecking Ball," in which she licks a sledgehammer and sings and cries, while sitting stark-naked but for a pair of work boots, on a steel wrecking ball as it swings back and forth into a faux brick wall. (Note to parents: This video can be accessed easily by young viewers.)
Perhaps Mr. Hemsworth just has a strong instinct for self-preservation. Let us assume so.
Unfortunately, Miss Cyrus doesn't seem to have such an instinct. Instead, she is leading the charge to her own exploitation.
Keep in mind that someone must stand behind the camera and direct when a provocative video such as this is produced — someone who is willing to strip a 20-year-old woman of her clothing, her dignity, her integrity and her womanhood.
In this case, that someone is renowned fashion photographer, pornography aficionado and erstwhile heroine addict Terry Richardson, who directed the soft-core porn video. According to reports, getting naked for the camera is a specialty of his, but it's he who frequently strips bare while his young (often underage) models endure his "eccentricities."
Miss Cyrus is perhaps the most famous young woman being corrupted and manipulated for the gratification of dirty old men like Mr. Richardson. But in American media, this is just standard operating procedure.
In fact, the Parents Television Council released a study under the banner of the "4 Every Girl" campaign in which it was revealed that "out of 238 scripted TV episodes which aired during the study period, 150 episodes (63%) contained sexual content in scenes that were associated with females and 33% of the episodes contained sexual content that rose to the level of sexual exploitation." (The study used the United Nations' definition of sexual exploitation to assure objectivity.)
The study goes on to reveal: "The likelihood that sexual exploitation would be considered humorous increased to 43% when the sexual exploitation involved underage female characters. Topics that targeted underage girls and were presented as humorous included sexual violence, sex trafficking, sexual harassment, pornography, and stripping."
This is how far we've sunk: A former child star rides naked on a wrecking ball, while underage girls are the targets of sexual exploitation on TV.
It's so surreal it almost sounds funny, until you realize that by manipulating young women and the culture they influence, people like Terry Richardson are laughing all the way to the bank.
Exploiting women and girls is big business, don't you know?