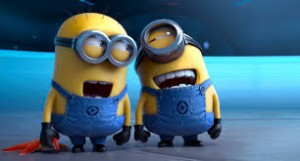 Gru and his yellow, gobbledygook-spewing, Contac-capsule-shaped minions are baaaack! Despicable Me 2 picks up where Despicable Me left off, but if you didn't see the first installment, no worries, "2" is a hoot without it. All you need to know is that Gru (Steve Carell) is a former dastardly doer of evil deeds on a planetary scale. A villain stylin' like a Russian spy from the Cold War.
Gru has settled down as an "legitimate businessman," but what matters most to him now is his girls: "I'm a father now" is the excuse that keeps him out of a lot of trouble. He glories in his responsibilities toward his three spirited fillies, and the littlest one, Agnes, can melt his heart with the bat of an eyelash. But, of course, this domestic bliss is not to go unchallenged. Evil forces are at work in the world, and Gru is recruited to counteract them on account of his super villain skills (he stole the moon, but as Gru is quick to remind everyone: "…but I put it back").
A fourth spunky female enters Gru's life in the form of red-headed agent Lucy (Kristen Wiig) of the Anti-Villain League. When they become partners in anti-crime, Gru is too frozen in his bad childhood memories of playground rejection and humiliation by girls to even entertain the thought of asking Lucy out. But his daughters pour on the pressure because "it's time" for Gru to date, and little Agnes would sure love a Mom. Speaking of dating, the eldest girl, Margot, is getting sweet on a boy, and all the fiery Papa Grizzly in Gru comes out (to hilarious effect, of course).
Kids will love this film (especially for the endlessly entertaining "sideshow" but also "main plot" minions), but adults will love it even more because of all the subtle and sophisticated humor. The only objectionable parts were the way a "bad date" of Gru's gets treated (the violence done to the young woman is a bit extreme, even though partially unintended), and some heavy-duty, maximum Mexican stereotyping in bad guy "El Macho." And, I'd like to know who declared open season on fat people and fake people.
"2" is a delightful collaboration (two directors and two screenwriters with impeccable credentials) with a strong dose of what feels almost like French whimsy, brought to you by Universal Studios, not known for animation, but certainly rivaling the best of Pixar. Sharpen your eyes and ears because there's much to miss in every packed, juicy minute.