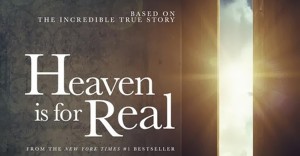 The movie Heaven Is for Real, based on the book by the same name, is the true story of four-year-old Colton Burpo who claims to have seen heaven. First off: Do not watch the trailer if you haven't already! It's a great trailer, but it gives away a bit too much. Second off: do see this movie!
Colton Burpo (played by the cherubic Connor Corum, who looks a lot the real Colton AND my nephew, Christopher, when he was that age–that's alot of "C"'s) is worth the ticket price. So is Greg Kinnear, who plays his pastor-father, Todd. Actually, all we needed in this movie was Colton and Greg together. Their chemistry is amazing and they are both just so believable.
The story arc is rather simple, and we are treated to a rare long Act One which is such a welcome change. The action does not follow the now-tired: Happy, happy family life and then–after seven minutes–BOOM, massive tragedy strikes. I had not read the book so I simply did not know what to expect, or what was coming, and found it on the unpredictable side.
The stakes are not that high in this film. I found myself asking: so…what IS at stake here? Family finances, a pastor's mild crisis of faith? But we don't really care about the stakes in this film, we are hooked because we just want to know for ourselves whether or not heaven is for real.
I think anyone could enjoy this film–even though it sometimes slips into pollyanna "Christian movie" territory, especially in the character of Todd's wife (British actress, Kelly Reilly, whose accent comes out a little when she's angry), a consistently sweet, supportive, fawning, coquettish, fun-loving dream wife who always looks amazing. She also gets a bit maudlin at times. But I considered whether this was the actress or the thinly-written part, and I think it's a bit of both. Was she portraying a "pastor's wife"? She just seems such a throwback–in all her relationships and demeanor–to another era, almost. "On the other hand" (Tevya), it's refreshing to see a woman who chooses (all of life is a choice) to be gentle.
There are genuinely funny moments–marvelously expressed by Greg Kinnear's facial reactions. But there are dreadful moments as well, namely when the film…sigh…tries to show us heaven. When the angelic music cued up and the screen got brighter and brighter I was muttering under my breath: "no…no…no!" But they didn't hear me. Clouds that we see out any standard airplane window, blurry white laughing CGI angels, and a duck-footed Jesus in a machine-sewn, bad Christmas pageant robe that comes only mid-calf, ankle-high Roman sandals…shall I go on?
For anyone who has lost anyone to death, especially a child, this is your film. And that's pretty much all of us, isn't it? This film is comforting and challenging at the same time. There are no easy answers. There is still mystery to it all. When a woman wonders if her adult son went to heaven, the pastor urges her to trust in God's love and mercy.
Todd's conversation with a psychologist he turns to for help must have been written by a Christian. Like the recent movie God's Not Dead, it doesn't really grasp the mind of a nonbeliever. This conversation could have been prolonged and could have stood in for the much larger scientific discussion regarding near-death experiences.
We really, really, really don't want to be underwhelmed when it comes to heaven. The images of heaven in the film are like a children's Bible story illustration or a Jehovah's Witnesses book I saw once. But thankfully they are not like the oil painting bogs of What Dreams May Come. As beautiful as heaven is, the point is that the most beautiful thing in heaven is God and people!
When Hollywood does "religion" well, they do it well. Heaven Is For Real is one of those occasions–for the most part.
"Blessed are those who have not seen and have believed." John 20:29
"Though you have not seen him you love him." 1 Peter 1:8