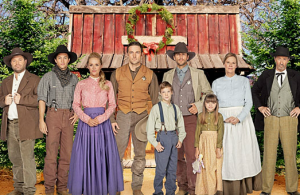 Author Janette Oke's characters come to life again, in Love's Christmas Journey. I remember that when I found out that my local library had The Love Comes Softly Series, I quickly began reading all of them. They are wonderful books that provide not only enjoyment, but also present people responding to the ups and downs of life in a faith-filled way.
While many movies have been previously been made in the Love Comes Softly Series, each one contains its own unique story of love, family, and faith including the latest movie, Love's Christmas Journey. After the death of her husband and daughter, Ellie (Natalie Hall) travels to visit her brother who is the sheriff of his local town, Aaron Davis (Greg Vaughan), and his two children Christopher (Ryan Wynott) and Annabelle (Jada Facer). There she finds a town bustling with the excitement of Christmas, and the prospect of having the railroad come through town. She also meets deputy Michael Strode (Dylan Bruce), who is a good friend of Aaron's and his family.
Ellie settles down to stay with her brother's family at least until Christmas, but like any of the movies in this series, it is a not an uneventful stay. Aaron decides to travel to a nearby town for a few days to buy some more land. He plans to focus his energies on farming instead of just being a sheriff, which is a job that is dangerous. He asks Ellie to look after his children while she is there. Michael and Erik Johnson (Bobby Campo), a young man that Aaron has looked after since the boy's father left him alone in town to fend for himself, are to help Ellie with the children. But when Aaron does not show up on the day of his expected arrival, the family becomes nervous.
Erik is also in a relationship with the mayor's daughter Suzanna (Annika Noelle). The mayor is unaware of this relationship, and if he knew of it, he would not approve. Consequently, Erik and Suzanna meet in secret when they can, but would like to be open about their relationship. Suzanna urges Erik to let her father get to know him better, but Erik is reluctant to do so because of the mayor's disapproval of his father. But when Ellie and her family are at dinner at the mayor's home, he finds Erik and Suzanna together and they are banned from seeing each other again. That night, the mayor's barn is set on fire.
One of the wonderful things about The Love Comes Softly series is the way in which each character's faith is such a central part of his or her life. Another plus is the constant support of family and friends that's given to anyone who is going through a hard time. In this case, it is Ellie who is supported as she grieves from the loss of her family and struggles to move on from her past. One of the things that I really enjoyed about this movie was the relationship between Michael and Ellie. The amount of genuine respect and admiration that Michael has for Ellie is something that any girl would appreciate.
A note to parents with younger children: one character says the "d" word and there is also some shooting, and one character is shot in the leg. This movie was pretty predictable and some parts seemed a little forced, but overall it's a great movie to just sit and enjoy on a cold night when you feel like watching a good, romantic, family movie.
Editors note: Love's Christmas Journey is now available through Fox Home Entertainment.